Temp Workers Fast Becoming a Corporate Trend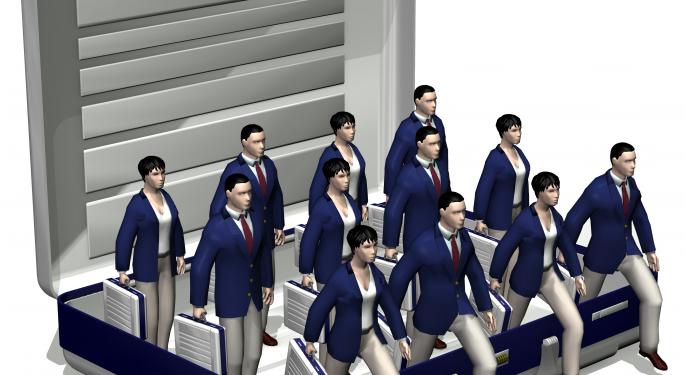 From small companies to large corporations, hiring of temporary workers is up.
Newsday reported that, in addition to many small businesses, companies like Wal-Mart (NYSE: WMT), General Motors (NYSE: GM), and PepsiCo (NYSE: PEP) are increasingly using part time help, or as Susan Houseman, an economist at the Upjohn Institute of Employment Research calls it, a "just-in-time workforce."
The main inspiration for this trend is uncertainty about the economy. In addition, according to Newsday, companies desire flexibility in matching revenue and expenses – especially with regard to payroll.
Some employers are also using this hiring practice to avoid Obamacare's mandate that they provide health care coverage for full time workers. That provision was delayed last week until 2015.
The number of temps hired is up more than 50 percent since the end of the recession and stands at 2.7 million, based on the Newsday report. This represents the highest number of temporary workers on the rolls since 1990.
Related: EXCLUSIVE: Kelly Services CEO Carl Camden on Employment Trends
For workers, temporary status has almost no benefits. Pay is lower, benefits are fewer, and job security is non-existent. The economy isn't strengthened to any degree with the addition of so many temps. People with part time or uncertain contract jobs are less likely to spend any more than what is necessary for subsistence.
None the less, Ethan Harris, global economist at Bank of America (NYSE: BAC) Merrill Lynch, said he thinks the trend reflects a real change in the workplace environment.
Harris said, "There's been a generational shift toward a less committed relationship between the firm and the worker."
On the other hand, the growth of a temporary workforce has its proponents. Companies say the flexibility helps them remain competitive. Temporary work, they argue, can provide valuable experience to more people – potentially preparing them for more permanent jobs when they become available.
Jeff Joerres, chief executive of ManpowerGroup (NYSE: MAN) said, "It (temporary work) opens more doors for people to enter the labor market."
Hans Hess, a small-business owner in Arlington, Virginia, hired an attorney to do legal work for his burger chain for less than $500 by using temp service, Elance, Newsday reported.
"When I was using a big law firm," Hess said, "it could cost me $5,000 to get to the point of just filing a trademark."
The real change, however, has occurred in corporate America. Staffing Industry Analysts conducted a survey of companies with more than 1,000 employees and discovered that as a group they anticipate that 18 percent of their workforces will be made up of temps, freelancers or contract workers this year. This is a 2 percent increase from 2012.
One of these companies, Wal-Mart, which calls its temporary workers "flexible associates," said it has been hiring disproportionately more temps than permanent employees.
Online temp agency, oDesk chief executive, Gary Swart, said that his clients now include corporations like AOL (NYSE: AOL) and Unilever (NYSE: UL).
Another online agency, Gigwalk provided PepsiCo division, Frito-Lay, with part time workers to check in-store displays to make sure a seasonal promotion was set up properly.
At the time of this writing, Jim Probasco had no position in any mentioned securities.
View Comments and Join the Discussion!
Posted-In: AOL Bank of America Merrill LynchNews Topics Events Small Business Media General Best of Benzinga