Sony Building PlayStation TV Service to Take on Netflix, Hulu and HBO Go (SNE, NFLX)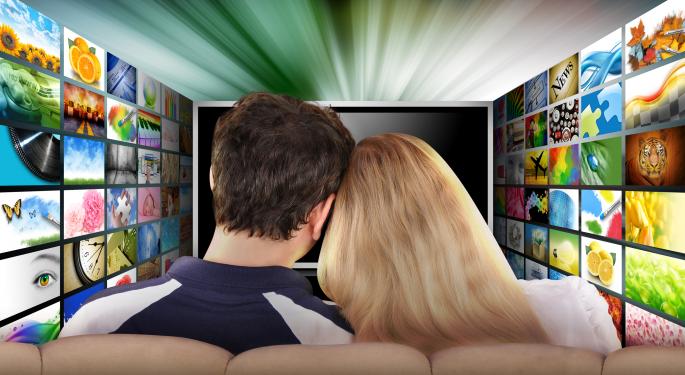 Sony (NYSE: SNE) appears to be in the process of building a new television service.
According to IGN, Sony filed a trademark application for something called 'PlayStation TV' late last month.
Though it may sound like a competitor to Apple's (NASDAQ: AAPL) long-awaited TV set, it is intended to be a service -- presumably along the lines of Hulu, Netflix (NASDAQ: NFLX) or Time Warner's (NYSE: TWX) HBO Go.
This is not the first time that Sony has trademarked the 'PlayStation TV' name. The company reportedly filed the same trademark way back in September 2006 -- two months before Sony's third console, PlayStation 3, was released.
At the time, Netflix had not yet begun streaming movies online. Hulu was roughly six months away from its debut. HBO Go was nowhere in sight.
In fact, the only major company streaming video online was YouTube. None its clips were presented in high-definition, however. That came much later.
Related: PlayStation 4 Units Could be Scarce as Sony Falls Behind Schedule
Sony ultimately abandoned its first trademark for PlayStation TV in September 2012. It is not yet known why Sony walked away from that filing, only to submit an application for the same trademark nine months later.
The trademark is not the only old element that remains intact. Sony has continued to use the same PlayStation TV logo that it created seven years ago:

Image Source: IGN
Before unveiling the PlayStation 4 last February, Sony was rumored to be developing a video-related service. This rumor was compounded by the fact that Sony announced that it would hold an event to reveal the future of the "PlayStation business," causing many to worry that the company may choose to focus on a new service instead of another game-playing device.
Sony will launch a streaming game service in 2014, which could be the source of the PlayStation TV renewal. While it is not yet known what kind of content PlayStation TV may offer, the announced service will stream old PlayStation 3 games through PS Vita and PlayStation 4.
This service is being created after Sony paid $380 million to acquire Gaikai, a company that attempted to stream full games over the Internet.
Prior to its acquisition, Gaikai was only capable of streaming game demos, such as the PC version of Alan Wake. The technology wasn't perfect but it showed a lot of promise.
Sony must have made a fair amount of progress since then, as it has decided to take the plunge and begin streaming games next year. PlayStation 4 games are not on the list of streaming titles, however -- likely because they require more bandwidth than the service (and existing Internet connection speeds) can currently handle.
Louis Bedigian is the Senior Tech Analyst and Features Writer of Benzinga. You can reach him at 248-636-1322 or louis(at)benzingapro(dot)com. Follow him @LouisBedigianBZ
Posted-In: IGN PlayStation 3 PlayStation 4 PlayStation TV SonyNews Rumors Tech Best of Benzinga
View Comments and Join the Discussion!