Qello's Revenue Share Could Pay Artists More Than Pandora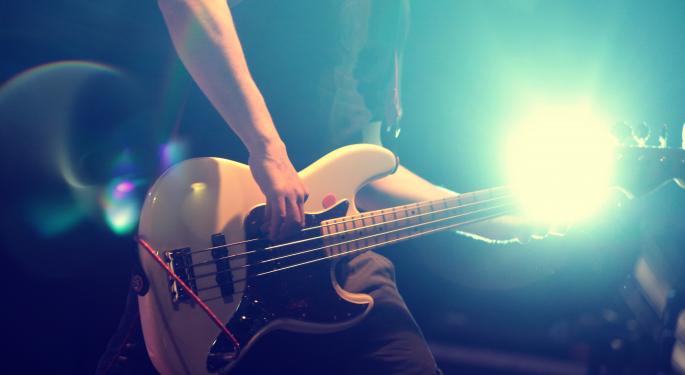 In a perfect world, musicians could make money with Pandora (NYSE: P), Spotify and other streaming music services.
According to Pink Floyd and countless other bands, these services -- particularly Pandora -- are a "rip-off."
In an op-ed published in USA Today, Pink Floyd's Roger Waters, David Gilmour and Nick Mason said that Internet radio companies are "trying to trick artists into supporting their own pay cut."
"Nearly 90% of the artists who get a check for digital play receive less than $5,000 a year," the trio wrote. "They cannot afford the 85% pay cut Pandora asked Congress to impose on the music community."
In 2012, SoundExchange (the company that Pandora uses to pay musicians) revealed that nearly 90 percent of its royalty checks were for less than $5,000.
Over time, artists could earn more from Qello, an on-demand streaming service that offers full-length HD concert films and music documentaries.
"It's an all-you-can eat model at $4.99 a month across all your devices," Brian Lisi, co-founder and CEO of Qello, told Benzinga. "We have a freemium model which essentially allows you to view specific tracks of the concerts within the application."
Qello is currently available for a variety of devices from Apple (NASDAQ: AAPL), Google (NASDAQ: GOOG), Microsoft (NASDAQ: MSFT) and Amazon (NASDAQ: AMZN). The app can also be found in select televisions from Sony (NYSE: SNE) and Samsung (OTC: SSNLF).
"The value that we deliver is low-cost access to arguably a billion dollars worth some of the best live performances ever shot on camera, originally produced for broadcast or DVD," said Lisi. "The quality is exceptional."
As an audio-visual company, Qello has tried to distance itself from the familiar round of Pandora or Spotify comparisons. But it could be difficult for recording artists to avoid making comparisons -- especially when looking at the revenue split.
"One of the things that's unique with our business is that we do a revenue share with our content providers," said Lisi.
Half of all monthly revenue goes directly to the content provider. Earnings are based on pro rata usage within the application.
Lisi broke it down like this:
If Qello had just 1,000 subscribers, its revenue would be $5,000 per month.
Fifty percent of that revenue ($2,500) would go to the content producers.
If 90 percent of all video views were for Coldplay (one of the featured artists), the band or its label would earn $2,250 (90 percent of $2,500 = $2,250).
Qello is a relatively new service, but Lisi said that it has already amassed a subscriber base of "tens of thousands" of people who are willing to pay. More than one million people have registered with the site to take advantage of its freemium features.
It is highly unlikely that one artist will rule the site with 90 percent of all video views. Unlike Pandora, however, artists will have the potential to earn more money as additional subscribers come to Qello.
"The content producers really don't have any other options," said Lisi, adding that Netflix (NASDAQ: NFLX) limits recording artists to a three-year license without any form of revenue sharing.
"There are going to be plenty of other channels within new media, but we've done a really good job of becoming a first market mover because of the niche content that we've been able to aggregate," he said.
Louis Bedigian is the Senior Tech Analyst and Features Writer of Benzinga. You can reach him at 248-636-1322 or louis(at)benzingapro(dot)com. Follow him @LouisBedigianBZ
View Comments and Join the Discussion!
Posted-In: Brian Lisi Pandora Pink FloydNews Success Stories Startups Tech Media Best of Benzinga