Did Apple Lose the iWatch Trademark in America? (AAPL)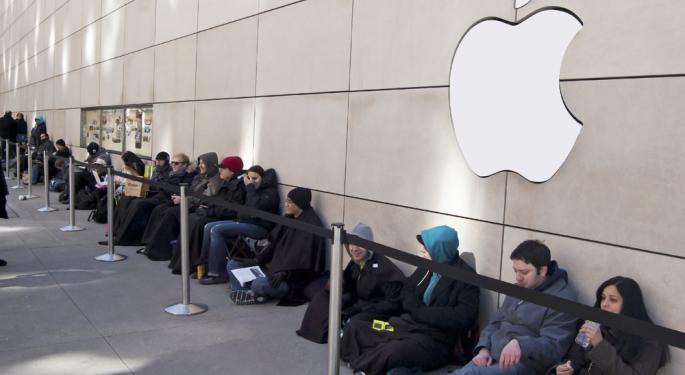 Apple (NASDAQ: AAPL) may have lost the trademark to its next product idea.
According to the New York Post, OMG Electronics may have beaten Apple in the race to trademark the "iWatch" name worldwide.
While Apple was thought to have filed for ownership of the iWatch trademark in Japan (among other nations), OMG Electronics is supposedly the only firm to do so in the United States.
Related: Apple Officially Loses iPhone Trademark in Brazil
If OMG secures the name in America and Apple secures it abroad, it would be an ironic turn of events for the Mac maker. Apple has fought all over the world to secure and/or maintain the legal rights to the iPhone and iPad names. There have not been too many issues in the United States, but Apple had to spend $60 million to re-purchase the iPad trademark in China.
Based on that experience, the iWatch trademark battle is hard to fathom. Would Apple's trademark team allow another important product name to fall into the hands of a competitor?
The many iWatch rumors had to have come from somewhere. If they are real, then that means that Apple has been planning to develop a smart watch for at least a year. As soon as those plans were put into motion, Apple would have likely fought to secure each necessary trademark -- domestically and abroad.
If that is not the case -- if Apple did not fight to secure the iWatch trademark -- then it is very unlikely that the company is intending to release a product with that name.
For the moment, Apple may be securing the iWatch trademark (among other, undiscovered trademarks) in as many nations as possible just in case it decides to release a smart watch. This would be more of a backup maneuver than anything else -- one that is designed to prevent another iPad or iPhone trademark battle.
Apple might still be too late, however.
The rumor mill has flourished over the last year. Consumers and Apple competitors are fully aware of the so-called "iWatch." Knowing the value of that trademark, it isn't too surprising to learn that another company hopes to gain legal ownership of the name.
In fact, it is hard to believe that other firms haven't done the same thing all over the world. Granted, corporations could spend millions of dollars filing trademarks that they think Apple might someday want, only to discover that Apple is going in another direction. But the iWatch name seems to be more intriguing (and has received much more traction) than the iTV name that has been tossed around for the company's first TV.
Louis Bedigian is the Senior Tech Analyst and Features Writer of Benzinga. You can reach him at 248-636-1322 or louis(at)benzingapro(dot)com. Follow him @LouisBedigianBZ
Posted-In: Apple iWatch New York PostNews Rumors Legal Success Stories Tech Best of Benzinga
View Comments and Join the Discussion!