This Apple Store Employee Left His Job for Microsoft (AAPL, MSFT)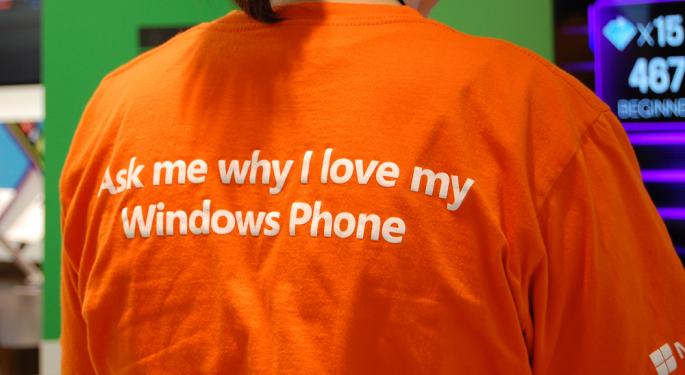 Apple (NASDAQ: AAPL) store employees are known for their friendly, eager-to-help personalities.
The company has worked hard to create a culture where customers not only feel welcome -- Apple also aims to make them feel wanted.
Few retailers are that dedicated to pleasing shoppers, but there is one that hopes to one-up Apple in that regard: Microsoft (NASDAQ: MSFT).
The Windows maker opened its 42nd store at the Somerset Collection in Troy, Michigan last Friday. The opening event was highlighted by CEO Steve Ballmer, who dropped by to cut the ribbon of the first store built in his hometown.
Related: Insight Announces Involvement in the Microsoft Devices Program
"We have had about 250 million visitors, but it's only the second store that I've been involved in opening," said Ballmer. "The first store was in my new hometown of Bellevue, Washington, and the second is my original hometown of Detroit."
Microsoft searched across Michigan to ensure that the store was staffed with the most talented and dedicated individuals. In at least one case, that search ended with an Apple store employee, Tim Thewes.
Thewes is the manager of the new Microsoft store in Metro Detroit. He does not currently list his Apple store experience on his LinkedIn page (NASDAQ: LNKD), but Thewes confirmed to Benzinga that he has worked for the Steve Jobs empire.
He came to Microsoft after the Xbox maker contacted him about a possible job.
"I was in technology before, so they contacted me, and honestly just being brought into the experience was amazing," Thewes told Benzinga.
On the topic of Apple, Thewes said that Microsoft's strategy is not about luring customers from one store to another.
"It's about giving the customers choice," he said. "We're excited to tell the Microsoft story and being able to showcase our products. Really, it's the customer's choice and I think that we have some really amazing products that we can showcase to give them great options."
Thewes recognized that Apple will continue to draw a crowd for new iPhones.
"Every retailer strives for success, right?" he questioned. "I think that Microsoft will continue to innovate and we'll get our line, too."
One advantage that Microsoft might have is that it can start hosting gaming leagues and tournaments immediately. While the majority of the iOS apps are simple, $1 time-killers, Microsoft has developed and published several high-end multiplayer games, such as Halo. The company also has a network of established and independent developers that make games for Xbox 360. Most of them will continue to develop games for Xbox One.
iOS developers have tried to compete, but until Apple releases a powerful, game-dedicated device, the company will fall behind Sony (NYSE: SNE) and Microsoft.
Thus, when consumers crave a competitive gaming experience that goes beyond achieving the highest score in Angry Birds, they are likely to turn to their local Microsoft store.
Microsoft is also striving to provide the best customer service experience.
"We're very proud to have local people here in our store," said Thewes. "It's one of those things where they come from different areas and backgrounds, but the one common denominator is that they're very customer-focused. So I can confidently say that we will be known for our customer service.
"As far as technical support, we have the answers desk right inside. That's gonna be whether you purchase the PC from us or from someone else. The consultation itself is free. A lot of the services, including any kind of virus removal from our operating systems, is also free."
Louis Bedigian is the Senior Tech Analyst and Features Writer of Benzinga. You can reach him at 248-636-1322 or louis(at)benzingapro(dot)com. Follow him @LouisBedigianBZ
Posted-In: Steve Ballmer Tim ThewesNews Management Success Stories Tech Interview Best of Benzinga
View Comments and Join the Discussion!