Antonis Samaras Faces Troika to Unlock Next Aid Installment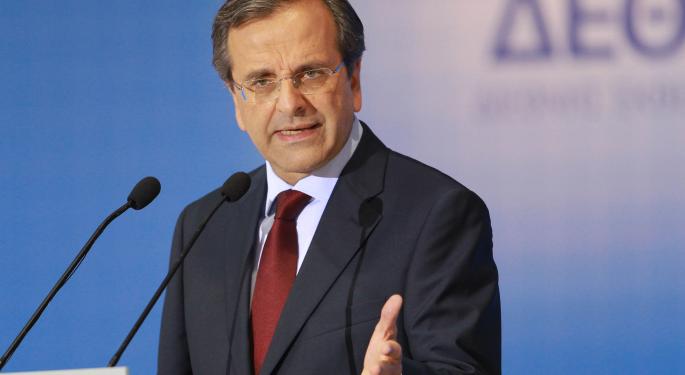 Greek Prime Minister Antonis Samaras found himself under fire in June after he made painful job cuts at state broadcaster ERT.
Following the decision, the public was outraged and the nation was thrown into political turmoil as the Democratic Left party demonstrated its dissent by withdrawing from the government. The political party said the cost of overhauling the nation's public sector was not worth the payout.
Around the same time, analyst discovered that Greece's aid package had a financing gap, and that the nation's funding is expected to run out in July of 2014. Now, leaders are working to come to a new agreement about the nation's aid in order to keep the International Monetary Fund from withdrawing as a lender.
Samaras has remained confident that the talks will be successful, and is set to meet with the EU, European Central Bank and the IMF on Monday at 10:00 ET. According to Reuters, Samaras will be working to get the troika to release 8.1 billion euros which will help redeem 2.2 billion euros of bonds which are due in August.
Samaras will have to answer for his nation's shortcomings, such as a 1 billion euro shortfall Greece's state run health insurer and the lack of progress on a state worker "mobility scheme"; which was supposed to go into effect in June.
After the political and social instability that followed Samaras' first cuts to public sector jobs, he has been firmly against implementing new austerity measures. He has lost much of his majority in the Greek parliament and support has been increasing for anti bailout parties like the far right Golden Dawn party.
Posted-In: News Commodities Forex Global Markets Best of Benzinga
View Comments and Join the Discussion!