Big Pharma's Next Blockbuster is Fish Oil?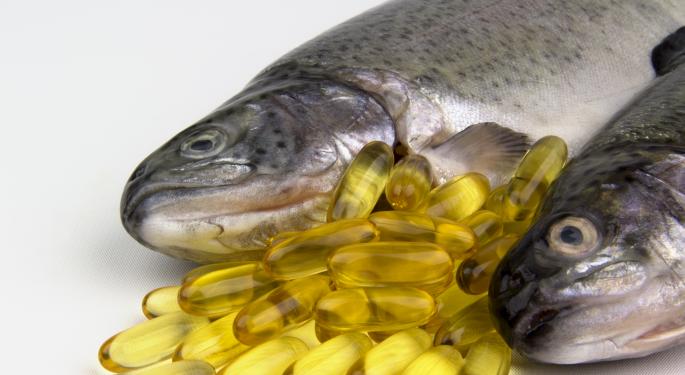 You might take it now.
It's marketed as being beneficial to patients with everything from depression issues to those who want a full head of hair, but drug companies like AstraZeneca (NYSE: AZN), Amarin (NASDAQ: AMRN) and GlaxoSmithKline (NYSE: GSK) are betting on it for another reason.
Heart disease is the world's largest killer. It accounts for 30 percent of deaths around the world and while the thought of it sounds cold and uncaring, that makes for a huge market. Lipitor—at one time the world's best-selling cholesterol-lowering drug, generated $13 billion annually for Pfizer (NYSE: PFE) before going generic—and that's only one drug.
That's why companies are looking for the next lucrative product in the cardiology space. The newest bet is fish oil. Fish oil is believed to target triglycerides, small fatty substances in the blood that is linked to a higher heart attack risk.
Last month, AstraZeneca purchased fish-oil pill manufacturer, Omthera Pharmaceuticals for $443 million. At the time of the purchase CEO Pascal Soriot said, "There is a clear need for effective and convenient alternatives to some of the existing treatments."
The problem isn't so much alternatives as it is patent protection. Statin drugs are the standard for treating cholesterol problems, but the days of the blockbuster statin are behind the industry as the drugs go generic.
Omthera Pharmaceuticals makes Epanova—a fish oil capsule only available by prescription. It's a highly concentrated and purified product that AstraZeneca hopes to pair with its flagship statin, Crestor. Crestor goes off patent in 2016 making AstraZeneca search for new ways to market the drug.
But the problem with fish oil is the lack of evidence. Bloomberg points out that one Japanese study found that taking fish oil with a statin lowered heart attack risk by 19 percent. A late stage trial of a drug sponsored by Amarin found that it cut triglyceride levels by up to 22 percent.
Other studies, like one reported in the New England Journal of Medicine found no positive effect. Another, published in the Journal of the American Medical Association in September, also found no effect on heart attack risk.
Scientists are skeptical along with the medical community, including Mark Urman, a practicing cardiologist. He said, "It's very unclear what role fatty acids play for cardiac patients." Big pharma, however, plans to place a major bet on fish oil.
Disclosure: At the time of this writing, Tim Parker had no position in the company mentioned.
Posted-In: Pascal SoriotNews FDA Events Global Econ #s Best of Benzinga
View Comments and Join the Discussion!