PayPal to 'Launch' Space Payment Initiative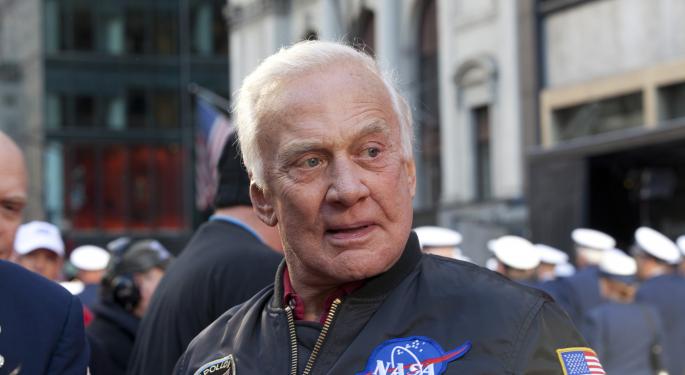 PayPal announced on Thursday that it was "launching" PayPal Galactic in partnership with the SETI Institute and astronaut, Buzz Aldrin.
You know this has happened to you before. You're flying around in space and you get halfway around the moon and you run out of antimatter. (If you're not a Star Trek fan, click here.) Even worse, all you have are dollars and everybody knows you can't pay for anything in space with dollars.
You find a Good Samaritan who happens to live on the moon to loan you enough to get back home. If only there were some sort of universally accepted currency or payment portal that allowed you to pay while in space.
PayPal aims to solve that problem. Thursday, the eBay (NASDAQ: EBAY) owned company announced PayPal Galactic and it aims to address the problem of space payments. It sounds a little silly but it's not quite as "out there" as it sounds.
For now, it's more of a partnership that will begin studying and developing infrastructure to address the issue. As companies like Virgin Galactic and others begin shuttling people into space, likely in the next couple of years, PayPal believes that a payment infrastructure will have to be in place.
PayPal President David Marcus told CNNMoney, "We feel it's time now -- not next year, not when [space tourism] starts to happen -- to start figuring out what this looks like."
Thursday, the company held a press conference featuring astronaut Buzz Aldrin and announced a partnership with the Search for Extraterrestrial Intelligence (SETI) Institute along with the Space Tourism Society. SETI will act as the representative for all life forms outside of Earth. (OK, we made that up.)
But in all seriousness, PayPal acknowledges that on the surface, the whole idea seems, "pie in the sky" but throughout history, people have laughed at those who looked to solve problems that people didn't know they had.
PayPal has a point. With technology rapidly evolving, space is no longer off limits to the masses and as soon as the masses leave the planet, a new economy will have to be formed. With a new economy comes a payment infrastructure.
If PayPal and its partners can develop the infrastructure now, it will have the clear advantage when there is a real need and that will mean profit and a lot of it.
Until then, we'll all have to make sure we have plenty of antimatter.
Disclosure: At the time of this writing, Tim Parker had never been to space.
Posted-In: Buzz AldrinNews Forex Legal Events Global Markets Tech Best of Benzinga
View Comments and Join the Discussion!