SLIDESHOW: Top Stocks For The DOMA Ruling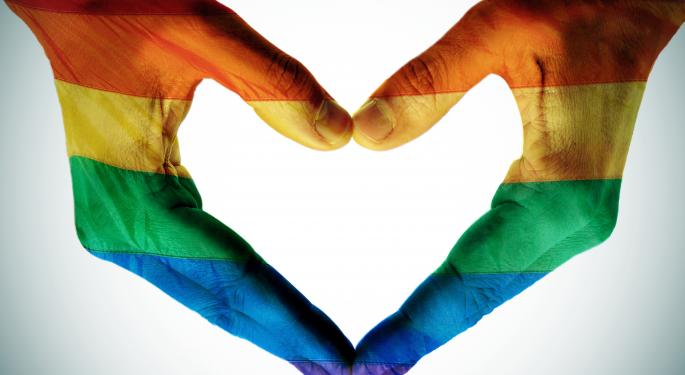 Wednesday morning, the Supreme Court rejected the 17-year ban on same-sex marriage being federally recognized as unconstitutional in its critical Defense of Marriage Act ruling.
The move was very close as the Supreme Court voted 5-4 in favor of ruling the law unconstitutional, a good view of the divide in the U.S. on the subject.
For markets, there could be a direct impact of the ruling. Several stocks are sensitive to wedding seasons and others could simply benefit from an increase in travel and other wedding related expenses.
Benzinga broke down a host of stocks and ETFs that could be impacted from the DOMA decision.
Posted-In: News Previews Legal Events Intraday Update Markets Trading Ideas General Best of Benzinga
Health Insurers (UNH, AET, WLP)

Since one key restriction of the Defense of Marriage Act was that same-sex couples could not legally share benefits and be listed under a single policy as a couple, the ruling could mean that insurers could see many couples applying for new policies.

Although these policies could mean lower premiums, it could however mean that insurers could grow the total number of people they cover.

In this sense, they could diversify risk across more pools and actually see lower costs, thus boosting the bottom line.

The end effect will be determined depending on individual policies.

Watch health insurers such as UnitedHealth Group, Aetna, and WellPoint.

Photo courtesy of wpsic.com.

Life Insurers (HIG, AIG, ALL, PRU, MET)

In a similar fashion to health insurers, life insurers could also see an uptick in total number of people covered under plans as the rejection of DOMA allows for same-sex couples to share benefits.

Insurers such as Hartford Financial Group, American International Group, Allstate, Prudential, and Metlife should all be watched.

Photo courtesy of insured-usa.com.

Homebuilders (LEN, PHM, XHB)

Homebuilders stocks could move on the news as couples looking to get married and build families could need a bigger house to do so.

Stocks to watch include Lennar, which just reported strong earnings Tuesday, and PulteGroup could move on the news. Also, watch the broad SPDR Homebuilders ETF.

Photo courtesy of msnbcmedia.msn.com.

Real Estate Companies (Z, TRLA, RLGY)

In the same vein as homebuilders, real estate websites could benefit from the news from increased search traffic as couples search for homes to build families in.

Three stocks to watch here are Zillow, Trulia and Realogy.

Photo courtesy of lowesforpros.com.

Social Media (FB, LNKD)

Social media stocks could also benefit from the ruling as the decision could spur an increased use of social media as individuals share and discuss opinions on the matter.

Also, those potentially encouraged to change their relationship statuses would drive traffic, increase the data assets of the companies, and boost ad revenue.

Stocks to watch include Facebook and LinkedIn.

Photo courtesy of greatfinds.icrossing.com.

Travel Booking Sites (EXPE, PCLN, KYAK)

Online travel sites could see an uptick in traffic as couples plan honeymoons and family travel to weddings.

Three stocks to watch are Expedia, Priceline.com and Kayak Software.

Photo courtesy of us.123rf.com.

Airlines (UAL, LCC, DAL, LUV, JBLU)

Airline stocks could also benefit from an uptick in travel as people go on vacation for more weddings and honeymoons take off.

Stocks to watch include United Continental Holdings, U.S. Airways Group, Delta Air Lines, Southwest Airlines, and JetBlue Airways.

Photo courtesy of aviationnews.eu.

Hotels (H, HOT, MAR)

Hotels will also benefit from an uptick in travel.

Also, should weddings be front-loaded in the post-DOMA-repeal frenzy, hotels could see an increase in bookings for renting out large rooms for wedding receptions.

Stocks to watch include Hyatt Hotels, Starwood Hotels and Mariott.

Photo courtesy of jetsetz.com.

Jewelers and Precious Metals Stocks (TIF, ZLC, GLD, SLV, GDX, GDXJ, NEM, SLW)

As the rate of weddings increase, demand for engagement rings and wedding bands could increase. Thus, look at jewelers and precious metals companies.

Jewelers to watch include Tiffany and Zales.

Also, precious metals ETFs could be worth watching here. The SPDR Gold Trust and the iShares Silver Trust are worth watching as well as the gold miner ETFs Market Vectors Gold Miners ETF and the Market Vectors Junior Gold Miners ETF.

Two individual names to watch are Newmont Miningand Silver Wheaton.

Photo courtesy of i.ebayimg.com.

Flowers (FLWS)

Lastly, what would a wedding be without a beautiful bouquet of flowers?

Watch shares of 1-800-Flowers.

Photo courtesy of wikimedia.org.
View Comments and Join the Discussion!