Twinkies Set for Triumphant Return July 15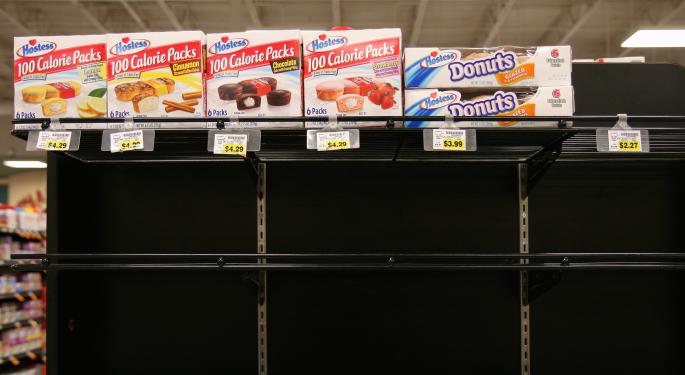 In case you don't think this is a big deal, visit hostesscakes.com. That's right. It's a countdown clock. Not to Armageddon – but to the return of an iconic snack.
As the site says, "The clock is ticking. And when it reads septuple zeros, the greatest treats the world has ever known will triumphantly return."
If you do the "clock math," you will learn that Twinkies and other well-known Hostess snack cakes will be back on store shelves, July 15.
The Associated Press reported the news Sunday while detailing the saga of the company behind the iconic cream-filled spongecake delight that went bankrupt after failing to find common ground with disgruntled union workers.
Hostess Brands Inc. struggled for years before filing for Chapter 11 bankruptcy in 2012. Unionized workers blamed it all on mismanagement and the company's failure to keep up with changing tastes. The company said higher pension and medical costs were the problem.
Ultimately, attempts to resolve the impasse failed and the company liquidated, selling off its various brands in bits and pieces.
The breads, including Wonder, went to Flowers Foods (NYSE: FLO). McKee Foods, maker of Little Debbie snack cakes, took Drake's Cake, including Devil Dogs and Yodels.
In a $410 million deal, investment firm, Metropoulos & Co. teamed up with Apollo Global Management (NYSE: APO) to buy a variety of Hostess snacks, including Twinkies, CupCakes, and Donettes.
When Hostess liquidated, all those lunchbox staples went away. Now they are coming back and on the off chance you still don't appreciate the sheer awesomeness of all this, be advised: Hostess says the boxes will now bear the tag line "The Sweetest Comeback In The History Of Ever."
There will be obstacles to the comeback. Daren Metropoulos, a principal of Metropoulos & Co, said, "A lot of impostor products have come to the market while Hostess has been off the shelves."
As with most good comeback stories, however, Hostess has been gearing up for the fight to come. Hostess Brands LLC has hired back some of its previous workforce – but they are no longer unionized. Also, the number of bakeries has been consolidated from 11 to 4.
The company will deliver to warehouses rather than directly to stores as it did in its past life, according to Rich Seban, president of Hostess. This move alone allows Hostess snacks to find their way to nearly all convenience stores in the U.S. Amazingly, previously Hostess could only be sold to about a third of the nearly 150,000 convenience stores in the country.
According to Bloomberg, this is the second time Hostess has emerged from bankruptcy. Previously, buyout firm Ripplewood Holdings LLC and others bought the company, then known as Interstate Bakeries, in 2009. It was at that time the name was changed to Hostess.
At the time of this writing, Jim Probasco had no position in any mentioned securities.
Posted-In: Apollo Global Management Flowers Foods IncNews Retail Sales Topics Events Media General Best of Benzinga
View Comments and Join the Discussion!