Benzinga's M&A Chatter for Tuesday June 18, 2013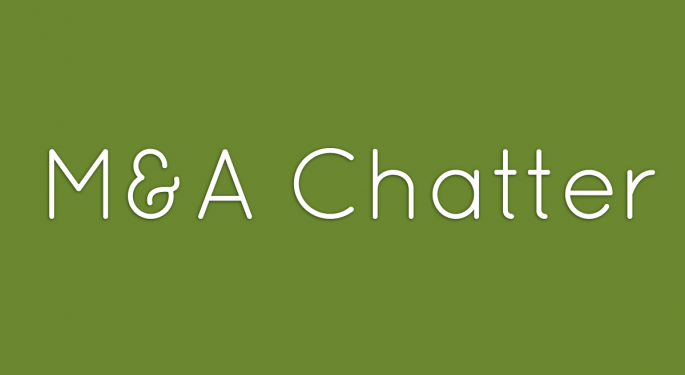 The following are the M&A deals, rumors and chatter circulating on Wall Street for Tuesday June 18, 2013:
Huawei Says it has No Plans to Acquire Nokia
The Rumor:
Shares of Nokia (NYSE: NOK) surged higher Tuesday on comments by Richard Yu, chairman of Huawei's consumer business group, and published on FT.com, that his company would consider buying the Finnish mobile communications company.
Huawei later emailed Benzinga with their official statement that they have 'no plans to acquire Nokia.' A Nokia spokesperson declined comment on the report.
Nokia closed at $3.86 Tuesday, a gain of 4.5% on 4 times average volume.
Hearing Renewed Market Chatter of Lenovo Bid for BlackBerry
The Rumor:
Shares of BlackBerry (NASDAQ: BBRY) rose Tuesday on renewed market chatter of a potential bid from Lenovo (OTC: LNVGY).
A spokesperson for Lenovo declined comment on the rumor, while reiterating that the January 24 comments by Lenovo's CFO, Wong Wai Ming, regarding a possible BlackBerry acquisition, were taken out of context. A BlackBerry spokesperson was not available for comment.
BlackBerry closed at $14.84 Tuesday, a gain of 3.78% on average volume.
Yahoo Considering $50M Qwiki Acquisition
The Rumor:
Yahoo (NASDAQ: YHOO) is considering an acquisition of app maker Qwiki for as much as $50 million, according to AllThingsD.
Qwiki makes an Apple iPhone app that permits users to create movies from photos, music and videos.
Yahoo closed at $26.66 Tuesday, a gain of $0.12 on lower than average volume.
MIT Capital Bids $3.65/Share in Cash for Meade Instruments
The Offer:
MIT Capital, through its wholly-owned subsidiary, Inc., proposed Tuesday to acquire all of the outstanding common shares of Meade Instruments (NASDAQ: MEAD) for $3.65 per share in cash. That's a $0.20 per share premium above the Meade Board-recommended offer made by JOC North America LLC for Meade on May 17, 2013.
Meade Instruments closed at $3.65 Tuesday, a gain of 5% on 4 times average volume.
Posted-In: M&A News Rumors After-Hours Center Movers
View Comments and Join the Discussion!