Up 500 Percent This Year, Investors Are Still Overlooking This Small Cap Stock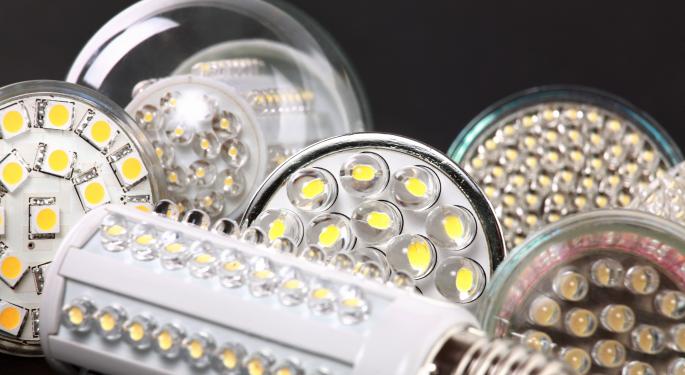 Revolution Lighting Technologies (NASDAQ: RVLT) produces LED products including lamps, fixtures and signs. These products are sold to commercial customers including the hospitality, educational and healthcare industries. Since the IPO in 2003, shares have been volatile, almost touching ten dollars, falling to eleven cents, and now trading in between.
Industry
The company's ability to grow is largely dependent on consumer demand for LED lighting products. In 2012, the LED industry brought in roughly $11 billion of revenue with about three billion of that figure attributable to lighting. LED Market Research expects lighting demand to jump to 5.8 billion in 2015. The report continues, noting "shipments of LED lamps to remain relatively flat from 2015 onwards."
LED lighting is expected to continue rising in popularity primarily because of its low energy costs and long life.
Competition
Along with LED competitors, Revolution Lighting faces competition from traditional and neon lighting. In their annual report, the company lists Acuity Brands Lighting (NYSE: AYI), Cooper Industries, GE Lighting (NYSE: GE) and several others as main competitors. Innovation, price and efficiency are key competitive battlegrounds.
Of Revolution Lighting's competitive advantages, their efficiency and dealer network stand out. As the company points out, their products are more efficient than competitors, providing greater energy savings. The dealer network is expected to reach 71 domestically by the end of the year, with dealer function to provide education, sell and distribute products.
Growth Strategies
In 2012, Revolution Lighting spent over half a million on research and development, accounting for roughly six percent of operating expenses. This figure is down almost six percent from the year prior. The reduction in research and development is largely attributable to reduced payroll expense.
Along with developing new technologies, the company plans to expand its reach with education. As stated in their 2012 10-K, "The market is still slow to embrace the technology. Through education, we have created a sales force that provides the knowledge necessary to drive the commercial market."
Financials
Revenue fell to 4.48 million for the year ended 2012, down from 8.99 million and 5.4 million in 2011 and 2010, respectively. Despite a year over year fifty percent drop in revenue, cost of goods sold fell just 33 percent with selling and administrative costs falling just 17 percent. Net income landed at a 13.8 million dollar loss, which is higher than 2009, but a decline from the two most recent years.
For the first quarter ended at the end of March this year, revenue jumped to 6.3 million from 1.1 million year over year. This can be accredited to a series of acquisitions, causing earnings to drop by 3.5 million year over year, largely due to acquisition costs.
Valuation
Shareholder's equity is currently worth approximately $0.33 per share, or 8.25 percent of share value. Revolution Lighting's price/sales ratio is 12.10, as compared to the industry average of 1.98. Similarly, the price/book ratio of 34.41 is 9.4 times higher than the industry average. Although EPS has fallen as compared to the industry, gross margin is higher than competitors.
Smart Money
For investors who believe in following institutions and insiders, both are sending bullish signals. Institutions have added 4.5 million shares this quarter, increasing their stake by over 66 percent with mutual funds adding almost 60 percent. Insiders have added a significant amount of shares in May through both purchases and acquisitions.
After touching $0.11 late last year, shares are trading near their 52 week high at $4.00.
Posted-In: Cooper Industries LED light LEDs light emitting diodeNews Small Cap Analysis Small Cap Trading Ideas Best of Benzinga
View Comments and Join the Discussion!