Comcast Venture Arm Investing in YouTube Startup Fullscreen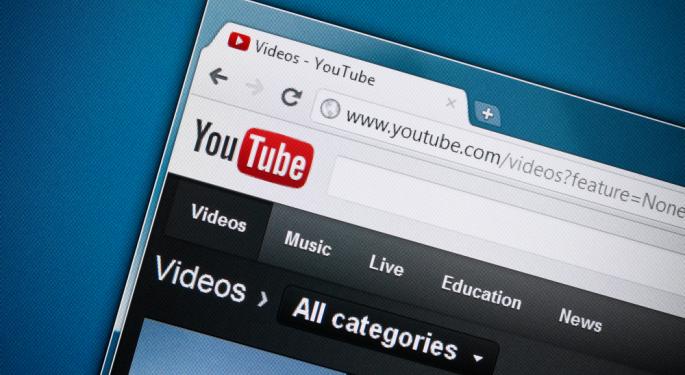 "Hey, check this out!"
These words – as part of a text message or email – often precede a link to a YouTube video, something that is fast becoming the entertainment choice "du jour" for millennials.
Comcast Corp. (NASDAQ: CMCSA) through its venture arm, Comcast Ventures, noted the trend and is funding a startup called Fullscreen. Fullscreen, according to Bloomberg, helps video content creators monetize their video clips through advertising and audience-building. In return, Fullscreen takes a cut of advertising revenue. Joining Comcast in this investment are Chernin Group LLC and WPP PLC (NASDAQ: WPPGY).
Fullscreen, which supports more than 15,000 aspiring video stars, plans to use the investment, in part, to open offices in Brazil, India, Mexico, Japan, and Russia over the next two years, according to Fullscreen founder, George Strompolos.
Strompolos, formerly with Google Inc.'s (NASDAQ: GOOG) YouTube, started Fullscreen in 2011 after noticing that more and more people were using smartphones and handheld computers to create and share video content.
"I had the crazy idea that I could build a media company on the Internet with YouTube as our starting point, in partnership with thousands of creators around the world," Strompolos said.
Violinist, Lindsey Stirling, whose performances include choreography, is one of Fullscreen's most popular artists. Stirling's "Crystallize" video has more than 62 million views on YouTube.
Reporting on Comcast's investment, Philly.com said as the Cable-TV business shrinks due to subscribers canceling service in favor of Netflix (NASDAQ: NFLX) or Hulu, Comcast is expected to expand its Internet-related business to help pick up the slack.
Comcast is the nation's largest residential Internet provider and has nearly 20 million broadband subscribers.
Comcast Ventures is a different type of corporate venture arm, according to The Wall Street Journal. Group Principal Sam Landman told the newspaper that for one thing, Comcast Ventures often leads deals, an unusual position for a corporate venture arm to take.
For another, despite Comcast's obvious interest in Fullscreen's Internet entertainment value, Landman said, Comcast Ventures' priority is financial return on investments, not the potential benefit to the parent company.
In fact, according to Landman, it's rare for Comcast to acquire startups backed by Comcast Ventures.
The amount of the investment wasn't disclosed but AllThingsD reported in April that Comcast and Chernin Group were discussing a $30 million deal at that time.
Comcast Ventures is not under pressure to invest within a certain period, as other venture funds are, and has chosen to spend most of 2013 on the sidelines. Landman said the primary reason is that valuations in the space were simply too high. Comcast Ventures prefers to invest in well-established companies like Fullscreen, that are already showing a profit.
At the time of this writing, Jim Probasco had no position in any mentioned securities.
Posted-In: Comcast Corp.News Wall Street Journal Financing Events Startups Tech Media Best of Benzinga
View Comments and Join the Discussion!