What Is the Government Really Looking At?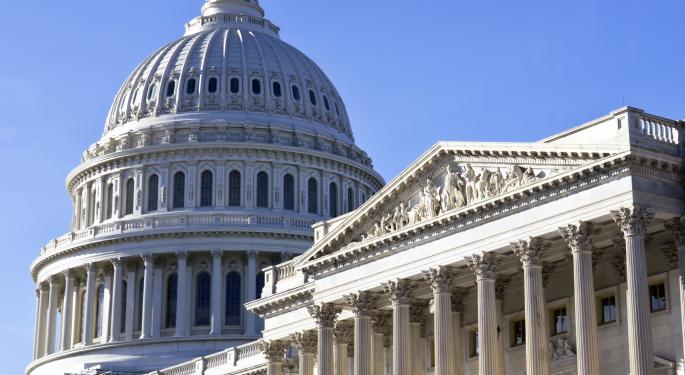 The NSA hacking scandal has taken front page of newspapers around the world of late and has threatened to disrupt diplomatic relations between major economies, the most recent flare-up occurring between Russia and the United Kingdom.
With revelations from companies over the last several days and weeks from companies including Apple (NASDAQ: AAPL), Facebook (NASDAQ: FB), and Verizon (NYSE: VZ) that the government has asked companies for data thousands of times, the real question is what are they asking for?
"Hopelessly Wrong"
An article posted Friday on ZDNet.com titled How did mainstream media get the NSA PRISM story so hopelessly wrong? noted that the government is not so much taking what it wants. Rather, the government is simply using legally sound methods of securing warrants and asking for data. Even an editor at the Guardian, who first broke the story, has backtracked on a majority of their initial report that sparked the scandal.
Stewart Baker, former General Counsel to the NSA, wrote on June 6 on foreignpolicy.com that the legal theory behind these orders has been "carefully examined by all three branches of the government and by both political parties." He wrote further, "No one has repealed the laws that prohibit the National Security Agency (NSA) from targeting Americans unless it has probable cause to believe that they are spies or terrorists. So under the law, the NSA remains prohibited from collecting information on Americans."
Baker gives a great hypothetical example of what the FISA laws allow the NSA to do and what is illegal under the law. "Imagine that the United States is intercepting al Qaeda communications in Yemen. Its leader there calls his weapons expert and says, 'Our agent in the U.S. needs technical assistance constructing a weapon for an imminent operation. I've told him to use a throwaway cell phone to call you tomorrow at 11 a.m. on your throwaway phone. When you answer, he'll give you nothing other than the number of a second phone. You will buy another phone in the bazaar and call him back on the second number at 2 p.m.'"
Baker continues, "It doesn't have probable cause to investigate any particular American. But it surely does have probable cause to investigate any American who makes a call to Yemen at 11 a.m., Sanaa time, hangs up after a few seconds, and then gets a call from a different Yemeni number three hours later."
"The only way to make the [surveillance program] work, and the only way to identify and monitor the one American who was plotting with al Qaeda's operatives in Yemen, would be to pool all the carriers' data on U.S. calls to and from Yemen and to search it all together -- and for the costs to be borne by all of us, not by the carriers."
Company Requests
So, when the government is being accused of asking companies for "data," what it is really asking for is pattern-matching behavior, not necessarily profiles. The government is not memorizing your Facebook profile nor is it analyzing your iTunes account or reading your text messages. Rather, it is looking for someone fitting behavior that is described by terrorists in other countries and that is legally found using warrants and protecting individual rights.
Another example could be a foreign operative or someone under watch in another country sending messages to an asset via Facebook. If these messages imply that a message will be sent from a foreign country to a U.S. contact on Facebook, then the government can attempt to secure a warrant for all messages going between these two countries.
Note that the government cannot read these messages. Rather, they just see that messages were sent or received at a given time. If they can then match a certain pattern of messages to the foreign target, they can then obtain a warrant for these messages directly.
The Alternative Means Making Life Easier For Terrorists
L. Gordon Crovitz, writing in this morning's Wall Street Journal, boldly stated that intelligence surveillance of this sort is necessary to maintain the safety and security of American citizens. "The alternative," he wrote, "to allowing aggregate searching of communications is making life easier for terrorists."
He argues that programs such as the NSA one in questions could have prevented or at least alerted authorities to several of the most recent atrocities. He wrote that phone calls from a safe-house in Yemen to San Diego could have been seen and used to thwart the 9/11 terrorist attacks well in advance of the disaster. He also notes that opposition in Cambridge, Massachusetts resulted in the city turning off its government-controlled surveillance cameras in 2009, cameras which could have aided in preventing the killing of the police officer after the Boston Marathon Bombings.
Companies Disclose Requests
Apple this morning disclosed that it has received some 4,000-5,000 requests for data from the government in the six months ending May. "The most common form of request comes from police investigating robberies and other crimes, searching for missing children, trying to locate a patient with Alzheimer's disease, or hoping to prevent a suicide," the statement said.
Last week, Facebook disclosed that it had received between 9,000 and 10,000 data requests from various government authorities in the last six months of 2012. "These requests run the gamut – from things like a local sheriff trying to find a missing child, to a federal marshal tracking a fugitive, to a police department investigating an assault, to a national security official investigating a terrorist threat."
Microsoft (NASDAQ: MSFT) also disclosed that it had received data requests however denied providing broad-reaching data to the government. "We provide customer data only when we receive a legally binding order or subpoena to do so, and never on a voluntary basis. In addition we only ever comply with orders for requests about specific accounts or identifiers. If the government has a broader voluntary national security program to gather customer data we don't participate in it."
So What Does It Mean For Me?
Pretty much, nothing. Individuals should not be so concerned that the government is reading all of your emails, is stalking you Facebook profile, or is perusing your internet history. This is completely illegal and would infringe on numerous limitations of legislation set up to allow for these sorts of intelligence operations, as well as potentially infringe on first amendment rights.
The only reason that you should be worried is if you are acting in a suspicious manner and your actions raise suspicions of terrorism or other illegal activity. However, if you are not, there is no need to worry. As Crovitz put it, there is a trade-off between privacy and security and he argues that the amount and type of data the government has asked for doesn't put a name to the data, so it barely compromises privacy.
Posted-In: News Wall Street Journal Events Global Intraday Update Tech Media Press Releases Best of Benzinga
View Comments and Join the Discussion!