'Man of Steel' Has Huge First Weekend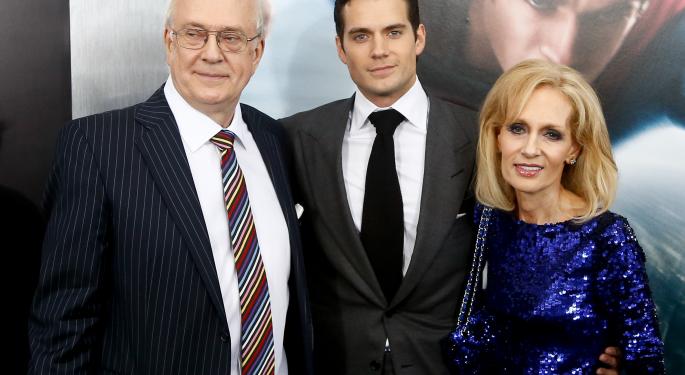 Warner Brothers, a division of Time Warner (NYSE: TWX) is reveling in the first-weekend haul of its newest mega-blockbuster, Man of Steel. According to the Associated Press, early metrics show a domestic revenue of $125 million plus an additional $71.6 million internationally.
This puts Man of Steel above Toy Story 3 as the top first-weekend-grossing film for June. The Disney (NYSE: DIS)/Pixar film brought in $110.3 million in 2010.
The film cost $225 million to make but it's already well into profitable territory. The Independent reported that prior to its opening, Warner Brothers had already secured $170 million in product placements from over 100 partners.
Moviegoers will see Lois Lane using a Nokia (NYSE: NOK) phone, Clark Kent drinking a Budweiser (NYSE: BUD), Chrysler vehicles being destroyed throughout the flick and Warby Parker glasses. Clark Kent's mother, Martha, works at Sears (NASDAQ: SHLD), and Superman finds himself flying through an IHOP sign.
Then there're companies like Gillette asking the question in its ads, "how does Superman shave," while Kellogg Company (NYSE: K) using the superhero on its cereal boxes, and fast food chain Hardees used the Superman director to create an ad for the "super" bacon cheeseburger.
Apparently, if you want to have Superman's six-pack abs, you pick up a burger that has six strips of bacon and 830 calories.
The film not only set the record for the biggest first weekend in June, it overtook Skyfall as the movie with the most product placements.
Interestingly, the film didn't receive overwhelmingly positive critic reviews earlier in the week but as of Sunday, closely-watched website, Rotten Tomatoes, reported that 93 percent of critics gave the film a positive rating along with 77 percent of fans.
In a not-so-close second place showing this weekend, Sony's (NYSE: SNE) This is the End brought in $20.5 million. The Seth Rogen, James Franco and Jonah Hill comedy opened Wednesday making the week's total, $32.8 million.
But it's not as catastrophic as it sounds. The film only cost Sony $32 million to produce.
Rory Bruer, Sony's president of worldwide distribution, said, "We knew we were going to have competition, but we felt our movie stood on its own and had its own voice[.]" Bruer went on to say, "I believe we've absolutely proven that. To have this amount of money in the bank with its cost of production, good reviews and word of mouth really puts our feet on solid ground."
Disclosure: At the time of this writing, Tim Parker had no position in the companies mentioned.
Posted-In: Kellogg Nokia Sears Holdings Sony corp Time WarnerNews Events Media Best of Benzinga
View Comments and Join the Discussion!