Benzinga's M&A Chatter for Friday June 14, 2013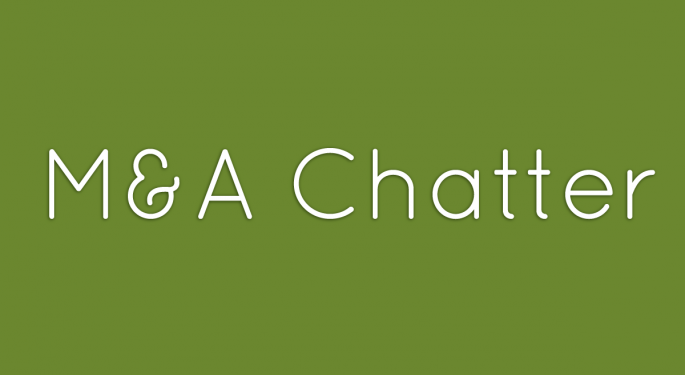 The following are the M&A deals, rumors and chatter circulating on Wall Street for Friday June 14, 2013:
Rockwood to Sell CeramTec to Cinven for Approximately $1.98B
The Deal:
In a deal first rumored on Friday, Rockwood Holdings (NYSE: ROC) announced Sunday a deal to sell its CeramTec Unit to PE firm Cinven for $1.98B.
Rockwood's Chairman and CEO Seifi Ghasemi, said Rockwoods expects "to use the substantial net cash proceeds to support our balanced approach to debt reduction, return of capital to shareholders and re-investment in our complementary growth core businesses.
Rockwood Holdings closed at $66.56 Friday, a gain of 2% on 1.5 times average volume.
FNB to Acquire BCSB Bancorp for $23.75/Share
The Deal:
FNB Corp (NYSE: FNB) and BCSB Bancorp (NASDAQ: BCSB) announced Friday the signing of a merger agreement, under which FNB will acquire BCSB Bancorp $23.77 per share, or $79 million in an all-stock transaction.
BCSB Bancorp closed at $21.79 Friday, a gain of 28% on 62 times average volume.
Elan Announces it is Proceeding with Formal Sale Process
The Formal Sale Process:
Elan Corporation (NYSE: ELN) announced Friday that it is proceeding with a formal sale, process due to the expression of interest from Royalty Pharma. Elan said Royalty will be invited to participate in this process, but urged shareholders not to tender into the current Royalty Pharma hostile offer of $13 per share plus an up to $2.50 CVR.
Royalty Pharma's CEO Pablo Legorreta, said "Elan shareholders should realize that Elan has only announced a sale process because of Royalty Pharma's offer." "However", he added, "neither Elan nor any of its four financial advisers has contacted Royalty Pharma."
Elan closed at $13.66 Friday, a gain of 8% on almost 6 times average volume.
View Comments and Join the Discussion!
Posted-In: M&A News Rumors After-Hours Center Movers