'Happy Birthday' the Subject of Newest Copyright Litigation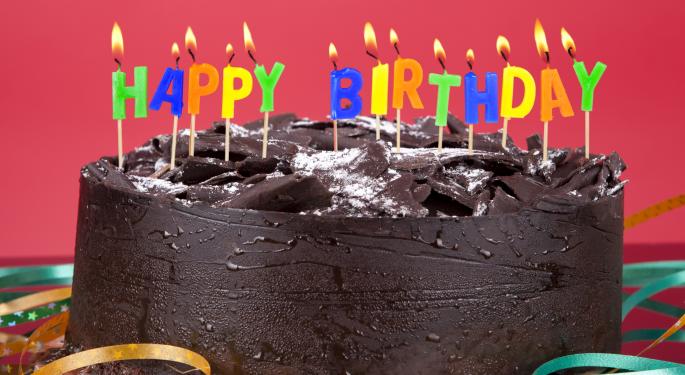 First there was the Apple (NASDAQ: AAPL) versus Samsung battle that has continued to crown winners on both sides. On Thursday, there was the Myriad (NASDAQ: MYGN) case that went all the way to the Supreme Court, and now, in what might be the oddest, yet happiest case involving usage rights, Warner Music Group, a past division of Time Warner (NYSE: TWX), that was later taken private, finds itself in a lawsuit involving, "Happy Birthday."
Yes, what is known as the most popular song in the world and sung multiple times each year by just about everybody in the United States is a copyrighted song. The copyright is held by Warner Music. This means that every time you and everybody else "perform" it, you technically owe Warner Music a royalty.
Warner doesn't have a secret team of operatives staking out every balloon and cake-laden birthday party but legally speaking, the company could demand payment.
If, however, you're a major media company or movie studio, you are paying for the rights to the song. If you don't, it's likely that you'll find yourself in the middle of litigation.
But not everybody believes that Warner does own the copyright and one production company has filed a lawsuit looking for class-action status. Good Morning to You Productions is making a documentary about the song. It claims that the song was first published in 1893 as "Good Morning to All" and by 1901, the public sang the words to "Happy Birthday to You."
Warner claims that its acquisition of Birch Tree Ltd in 1998, which purchased the rights to the song, "Good Morning to All" in 1893 is the basis of the patent.
According to NBC News, Robert Brauneis, a professor at George Washington University Law School, searched for evidence of a copyright for a combination of "Good Morning to All" and "Happy Birthday to You" and was unable to find one.
On the surface, it appears that the case has merit. The plaintiffs want Warner to give up its claim to the song and return the money it has collected in copyright revenue from the song. How much is that? According to CNN, Warner collects $2 million each year on the song.
Right now, the story is making its way around the "odd news" websites but if the facts are true as Good Morning to You Productions claims, this could be everything but a story buried in the low-traffic sections of websites and newspapers.
Posted-In: News Legal Events General Best of Benzinga
View Comments and Join the Discussion!