Myriad Ruling Causes 15 Percent Swing Thursday – Here's Why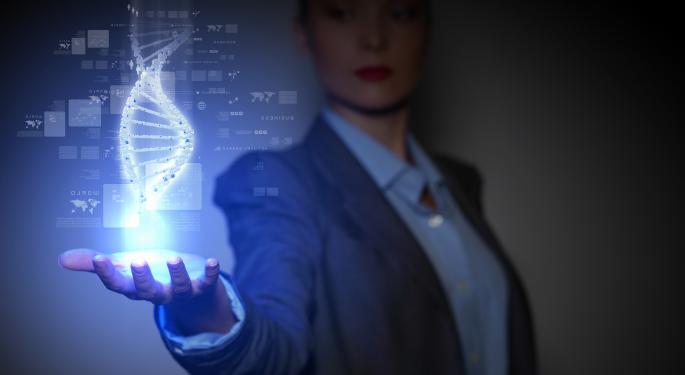 Apparently, Wall Street investors need to dust off their old biology textbooks and do some reading because Thursday's Supreme Court ruling involving Myriad Genetics (NASDAQ: MYGN) clearly wasn't understood by even those who can speak fluent biopharma.
Taking a look at yesterday's chart of the company, the stock was up nearly 10 percent soon after news broke that the Supreme Court had ruled on the case. Before details of the ruling were released, the headline reported by news outlets and pushed to mobile devices was that the high court ruled that Myriad's patents were invalid.
As more news broke, it was found that it wasn't as bad as the headlines initially read. The stock continued higher but around 2:00 p.m. it plummeted to finish the session down more than 5 percent on volume that was 16 times higher than normal.
Now that the dust has settled, here's what you need to know about the ruling.
At issue were two genes-BRCA 1 and BRCA 2. These genes, known as cancer suppressors, sometimes mutate and when they do, and they're passed on to future generations, it puts women at higher risk for breast and ovarian cancer. (Men are also at higher risk for breast cancer.) If you want to know more about the science behind these genes, go to cancer.gov.
Since the late 1990s Myriad held a patent on those genes and because of that, it was the only company who could market the test to detect the mutated genes. In a years-long legal battle that ended yesterday, the Supreme Court ruled that nobody can patent a product of nature.
But the ruling was more in Myriad's favor than initially thought. The court upheld its patents on cDNA. Complimentary DNA or cDNA is artificially produced and used as part of the testing process for the gene mutations.
Why the stock reaction? Myriad issued a statement saying that invalidating five patent claims on a test that holds 24 patents is not going to affect its revenue.
But as the day went on, other companies began releasing statements that basically said, "We're coming."
Wendy Bost, a spokeswoman for Quest Diagnostics (NYSE: DGX) said in an email to Bloomberg, "As the leader in women's health and cancer diagnostics, we are very interested in offering a BRCA testing service. We now intend to validate and offer a BRCA1 and BRCA2 test service to physicians and patients later this year."
Others don't believe that new tests will come to market any time soon but what is clear is that competition is now free to enter the market. Myriad's monopoly has effectively ended. What that means for the company going forward is what has investors worried.
Disclosure: At the time of this writing, Tim Parker had no position in the companies mentioned.
Posted-In: News Legal Events Best of Benzinga
View Comments and Join the Discussion!