Benzinga's M&A Chatter for Wednesday June 12, 2013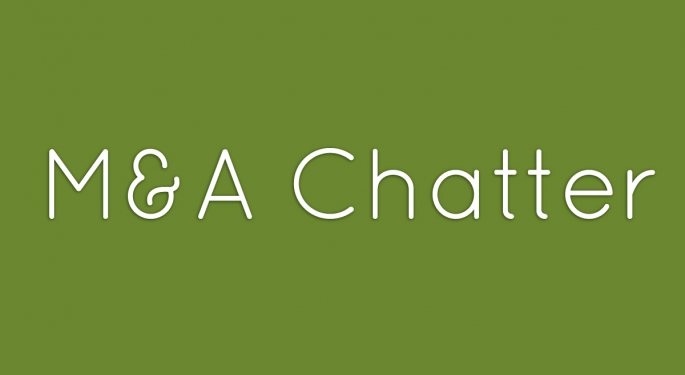 The following are the M&A deals, rumors and chatter circulating on Wall Street for Wednesday June 12, 2013:
Safeway to Sell its Canadian Operations to Sobeys for C$5.8 Billion
The Deal:
Safeway (NYSE: SWY) announced Wednesday that it has entered into an agreement to sell its Canadian operations to Sobeys for C$5.8 billion in cash, plus the assumption of certain liabilities. The proceeds from the sale are expected to be used to pay down $2.0 billion of debt plus buy back shares.
The transaction is expected to close in Q4 2013.
Safeway closed at $23.11 Wednesday, and traded over $32.00 after-hours.
Apollo Tyres to Acquire Cooper Tire & Rubber for $35.00/Share
The Deal:
Apollo Tyres and Cooper Tire & Rubber Company (NYSE: CTB) announced Wednesday the execution of a merger agreement under which a wholly-owned subsidiary of Apollo will acquire Cooper Tire for $35.00 per share in cash. The transaction is valued at approximately $2.5 billion.
The deal is expected to close in the second half of 2013.
Cooper Tire & Rubber closed at $34.66 Wednesday, a gain of 41% on 44 times average volume.
Hearing Deal Reporter Says Nook Deal with Microsoft Not Happening
The Rumor:
Shares of Barnes & Noble (NYSE: BKS) spiked lower in late trading on Wednesday on a Deal Reporter story that Microsoft (NASDAQ: MSFT) may not be buying the assets of Nook Media. TechCrunch reported on May 9 that Microsoft could pay $1 billion for the digital assets of Nook Media.
Nook Media is a partnership between Barnes & Noble and Microsoft involving software, content, and devices using the Nook Digitial brand, plus BKS' college business.
Barnes & Noble closed at $21.30 Wednesday, a loss of 6% on average volume
View Comments and Join the Discussion!