Technical Street Fight: Apple vs. Facebook (AAPL, FB)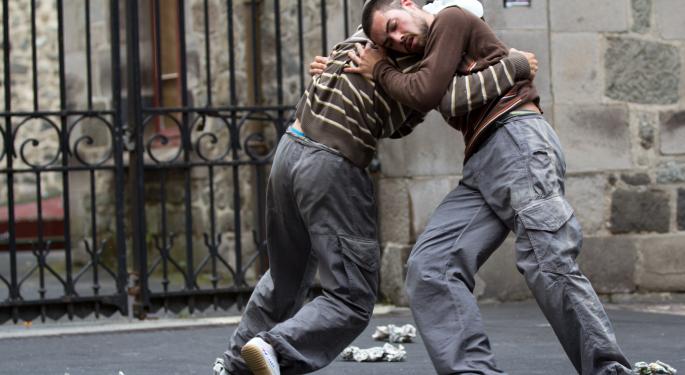 Apple (NASDAQ: AAPL) dominated the headlines Monday when it introduced iOS 7, a refreshed line of Macs, and iTunes Radio.
Facebook (NASDAQ: FB) was in the news Tuesday when it held it's first-ever shareholders meeting and faced backlash from investors who want to why the stock is down and a young company has so much cash.
Not that angry shareholders and a redesigned weather app that looks a lot like Yahoo's (NASDAQ: YHOO) isn't important—it's just not important to those strictly analyzing the charts. Strip away the noise and what does the chart say?
Apple
Who is willing to bet against Apple at these levels? Not many people and the chart is illustrating that. Apple is finally doing something that the high-flying Apple of old rarely did: It's trading around its mean. When the stock strays from its 50 day moving average, it's not long before it reverts back.
Another good sign for the stock is its basing pattern. Take out the short-lived downside move that served to flush out some longs and the subsequent upside move that brought in buying interest, and the stock has formed a trading range from $430 to $450 since February.
Admittedly, we can't discount the big downside move to $385 in the second half of April but what we can call it is a reverse head and shoulders pattern that is often a bullish indicator.
In this case, it wasn't. The stock failed to follow through with a big Apple-sized upside move although it was good for about 30 points before reverting back to the mean. This trading range is tightening which means the stock will likely break out of the range within the next couple of months if the channel continues to slowly tighten.
Facebook
After hitting a high around $32 in January, Facebook has seen strong downside action. When a stock makes lower highs and lower lows, that's not a good sign and that's exactly what the stock is doing. Each time the stock has found buyers, sellers move in and push the stock lower. The constant profit taking indicates that there is very little confidence in the sustainability of any rally in the stock.
It's trading well below its 50 and 20 day moving average, and it recently broke through what was a strong level of support around $25. The stock tried to break back above it but failed, only to sell off to a new low.
 Who Wins?
It's not as easy to crown a winner as the charts might suggest. Facebook may be in a downtrend that started at the end of January, but Apple is just now finding a floor after being in a confirmed downtrend for much longer. The question becomes, do you want a stock that is currently doing nothing or one that has a chart that proves that it will likely be good for tradeable bounces to the upside?
Looking longer-term, Apple is the winner. As they say, don't try to catch a falling knife.
Disclosure: At the time of this writing, Tim Parker was long Apple.
Posted-In: Apple Facebook YahooNews Technicals Tech Trading Ideas Best of Benzinga
View Comments and Join the Discussion!