Wal-Mart Shareholders Critical at Annual Meeting Despite $15 Billion Buyback Announcement (WMT)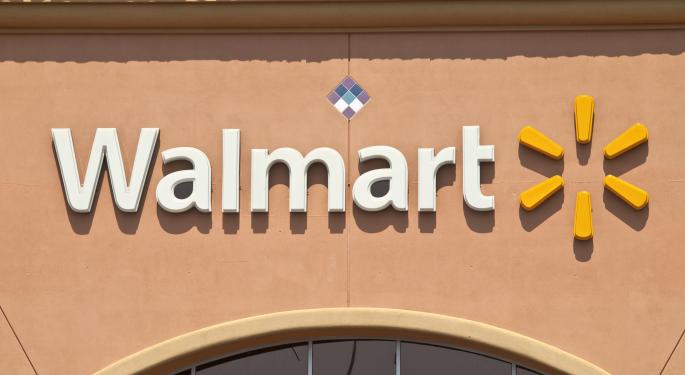 Wal-Mart (NYSE: WMT) shareholders are disgruntled, a fact they made abundantly clear at the annual shareholder meeting at the University of Arkansas on Friday.
In the wake of a first quarter report that clearly showed the company's low-income shoppers continue to struggle with unemployment, low wages, and higher payroll taxes, investors aired their grievances, including concerns about factory safety in Bangladesh and corruption in Mexico according to The Financial Times.
The show, as they say, must go on. Despite, or perhaps to counter, unhappy investors, there were celebrities a-plenty at the gathering, described by Radar Online as "part revival, part Hollywood awards show and a little bit of a shareholder meeting."
Hugh Jackman followed a performance by Jennifer Hudson with an introduction of Tom Cruise who talked about Wal-Mart's role helping women in the workplace and ending hunger.
Wal-Mart has been the target of three anti-discrimination class-action lawsuits filed by women against the company, in Tennessee, Texas, and California according to Radar Online.
As far as the hunger problem is concerned, the U.S. House Committee on Education and the Workforce cited Wal-Mart as having a role there was well. The committee's reported titled: "The Low-Wage Drag on Our Economy - Wal-Mart's Low Wages and Their Effect on Taxpayers and Economic Growth," discussed the problem of low wages at Wal-Mart and the fact that many Wal-Mart employees end up on public assistance.
In addition, investor representatives criticized the company with regard to its refusal to join more than 30 retailers in signing a binding accord to improve Bangladeshi factory safety. Wal-Mart has joined with Gap (NYSE: GPS) to sign an alternative, though non-binding, resolution.
Also still hanging over the company, allegations of corruption in Mexico that are not resolved. Neither the call for more a more proactive stance on Bangladesh, nor the demand for resolution to the Mexican corruption charges had enough votes to pass.
Criticism continued with a proposal to let investors call special meetings on important issues and another, from Hermes Equity Ownership Services, representing 40 large pension funds invested in the company, demanding that Wal-Mart's chairman be "independent" of management. Wal-Mart rejected both proposals as well.
The company did announce a $15 billion stock buyback plan, which dovetails a similar $15 billion buyback in 2011.
Thanks to about $36 billion in previous stock buybacks, the Walton Family owns more than 50 percent of the company. According to Bloomberg, under New York Stock Exchange rules, this gives them the right to have a minority of independent directors on the board, something the company says it has to plans to do.
In early trading, Monday, Wal-Mart shares were down slightly at $76.21.
At the time of this writing, Jim Probasco had no position in any mentioned security.
Posted-In: GAP Wal-Mart Stores IncNews Retail Sales Buybacks Management Events Media Best of Benzinga
View Comments and Join the Discussion!