UPDATE: Watch Shares of Erickson Air-Crane Over California Fire (EAC)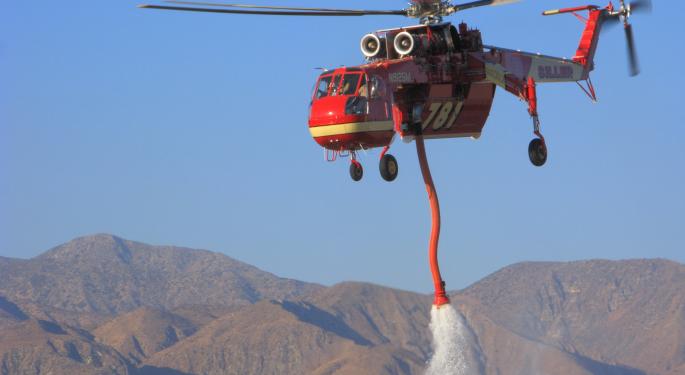 UPDATE: Shares of Erickson Air-Crane (NASDAQ: EAC) are seeing elevated volume and should be watched on news of a California wildfire. As described in the following article, Erickson operates helicopters that are used to fight massive fires.
Erickson Air-Crane (NASDAQ: EAC) produces, repairs and operates heavy lift helicopters. The helicopter, Erickson S-64, is designed for precision lift and placement, and is used for a variety of commercial and governmental purposes.
Manufacturing, repair and overhaul of the S-64 helicopter made up 10.9 percent of revenue. Along with building the aircrafts, Erickson is responsible for repairs and construction of replacement parts.
Operation of heavy lift helicopters made up 89 percent of revenues for 2012, the majority of which was for firefighting, timber harvesting and construction. Currently, Erickson's fleet consists of 18 lift helicopters, which makes them the largest operator in the world with the runner up operating only four. Customers for lift operations include governments and companies both domestically and internationally.
In terms of the industry, Erickson Air-Crane indicates in its annual report that the need for lift helicopters is increasing. The company states that fires have become increasingly destructive and fire seasons are lasting longer. As individuals push for more environmentally responsible timber harvesting, many companies look to aerial harvesting as they can be more selective with the trees they choose. In addition to this, new home starts are increasing, likely driving further demand for timber.
Erickson has spent almost 16 million on research and development over the past three years to develop new product applications and aircraft accessories. R&D expenses made up 16.7 percent of total operating expenses.
Of the greatest risks associated with the lift helicopter industry, and Erickson specifically, are the company carries a significant amount of debt, increasing insurance costs, increasing fuel costs, few customers and dependency on governments to continue paying for lift helicopter services.
Erickson has debt of $97.9 million as compared to assets of $256.8 million. This is notably greater than the industry average, putting the company in the 87th percentile. However, the company has significantly lower debt/equity when compared to the industry.
Net income for 2012 was down from 2011 while operating income and revenues have significantly increased. The decline in profitability can be attributed to a significantly higher income tax expense. Many investors may have overlooked this loss of profitability, causing valuation to be off.
Insiders have taken part in a significant amount of selling and dispositions recently, totaling several hundred thousand shares. This sell off correlates with a sharp decline in share price. Despite this recent selling, insiders have purchased an average of 425,000 shares over the past two years. For investors who follow big money, institutions have increased their stake in Erickson by over three percent this quarter, and over fifteen percent in the previous quarter.
Shares are currently trading at $18.27.
Posted-In: CaliforniaNews Small Cap Analysis Small Cap Events Trading Ideas Best of Benzinga
View Comments and Join the Discussion!