Surprise Hit Product for Microsoft, Despite Critic Naysayers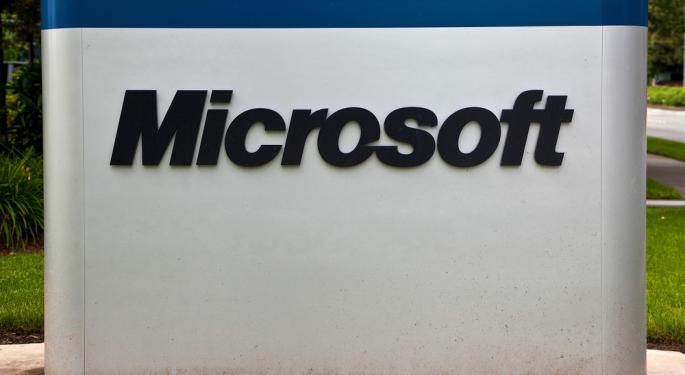 Microsoft (NASDAQ: MSFT) has a hit on its hands and no, it's not the Windows 8 reboot. It's not even the upcoming Xbox. It's in the form of an old friend that continues to silently deliver yet receives little credit.
It's Office. Unlike Windows over the years, Microsoft has done a pretty good job of not trying to completely reinvent something that isn't broken, but it did give the product the 21st century treatment.
What used to be something you bought at your local Best Buy (NASDAQ: BBY) or other electronics store is now a subscription service. For $9.99 per month, you get all of the office products you use like Word, Excel, Outlook and PowerPoint.
You also get the products you probably don't use as much like, OneNote, Access and Publisher. And the best part? It comes to you online complete with automatic upgrades and a license to install it on up to five computers.
But critics said that an online subscription would never work. There would be a revolt not seen since the days of Windows Vista and Microsoft would alienate another round of users just like Windows 8.
The critics were wrong.
The product is a surprise hit. Office just reached one million subscribers and it did it in almost record time. It took only three and a half months. The only product to reach the one million subscriber mark faster was Instagram. By comparison, Facebook (NASDAQ: FB) took ten months.
Despite completely botching the advertising for the new Office, which included the same name as an earlier product designed for a different purpose, Microsoft was still able to score a big win with Office 365.
As Forbes noted, it all comes down to math. Still like your software to come in a box? If you want the complete Office Suite, it's going to set you back $400 but you can only install it on a single computer. If you have a few computers in your home or you're installing it on multiple machines in a business environment, five licenses, like you get with Office 365, will cost you $2,000. Or you can pay $100 per year for the subscription service.
Microsoft isn't the only company going to a cloud-based subscription model. Adobe (NASDAQ: ADBE) recently took its Creative Suite, which includes Photoshop and Illustrator, to the cloud and while backlash was widespread at first, users are now complimentary.
Why the push towards the online model? Not only do software companies not have to package and ship the product, most important, it cuts down on piracy. The days of the oddly shaped Microsoft software boxes are gone.
Disclosure: At the time of this writing, Tim Parker had no position in any of the companies mentioned and is a proud user of Office 365.
View Comments and Join the Discussion!
Posted-In: Adobe Best Bey FacebookNews Retail Sales Econ #s Tech Media Best of Benzinga