Shares of Tesla are Up Again After Musk Speaks at D11 Conference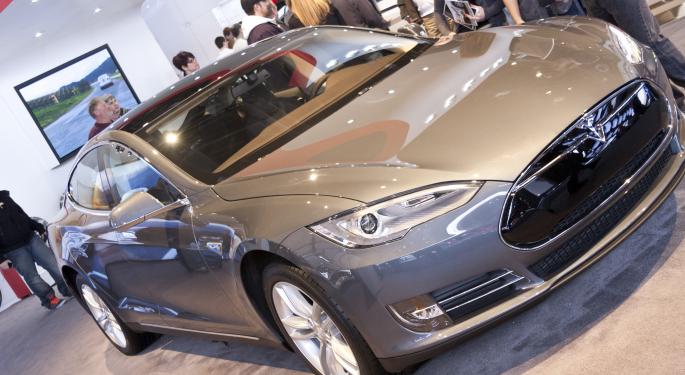 Shares of Tesla (NASDAQ: TSLA) are once again on the rise after a five percent pullback Wednesday. The primary cause of today's rise can be attributed to statements by CEO Elon Musk Wednesday night.
Triple Supercharging Coverage
After accidentally releasing news about charging stations during his interview at All Things D's conference D11, Musk agreed to give the full announcement a day early. Musk began by speaking about the freedom to travel when purchasing a car and acknowledged the problem of range that comes with electric vehicles.
Musk announced, "There is going to be a dramatic acceleration of the supercharging network and by the end of next month [June] we will triple the coverage of the super charging area." Musk went on to say that by the end of the year charging stations will cover most metropolitan areas in the United States and Southern Canada, and will allow people to commute from New York to Los Angeles with the Supercharger network. A map of upcoming Supercharger stations is expected to be released later Thursday.
Inexpensive Car
Of the most bullish news emerging about Tesla, are Musk's additional details and affirmation that Tesla will begin to produce a significantly cheaper electric car. With the current Model S starting at $63,570, a cheaper vehicle is expected to cost half of this price, or approximately $32,000. This car is expected to be available within three to four years, as announced at the D11 conference. This marks a new era for the automaker as it will now have a vehicle available for mainstream consumers. A $32,000 price tag is similar to Chevy's Volt and approximately one third more expensive than Nissan's Leaf.
Internet entrepreneur Jason Calacanis stated, "When Tesla comes out with a $30-40k car it's game over. They will start selling 100,000 cars a year and KO the Prius. The relentless software updates to the Model S are a true game changer." Methods to reduce the price of the car include shrinking its size by twenty percent versus the Model S, gaining experience as a company and economies of scale.
Fourth Quarter Profitability
When asked about achieving profitability with Tesla, Musk announced that the car company will be profitable in the fourth quarter without government subsidies and that "we are expecting 25 percent gross margins absent of credits." This is very bullish as the company recorded a 90 million dollar loss in the fourth quarter last year and achieved profitability for the first time earlier this year.
After opening down from Wednesday's close of $104.63, shares of Tesla are trading up 4.12 percent to $108.94.
The full interview, which includes a detailed discussion about SpaceX can be heard on All Things D's website.
View Comments and Join the Discussion!
Posted-In: All Things D Chevy Chevy VoltNews Rumors Management Events Trading Ideas Best of Benzinga