Consumer Confidence Hits a Five-Year High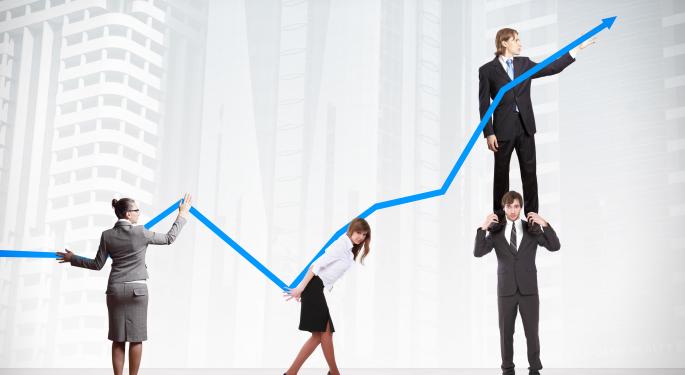 Consumer confidence hit a five year high, as reported by The Conference Board on Tuesday.
The Conference Board Consumer Confidence Index, which had improved in April, increased again in May. The Index now stands at 76.2, up from 69.0 in April. The measure began in 1985 at a level of "100."
The Present Situation Index increased to 66.7 from 61.0. Still, given the levels at which the index began, the measure is still subdued by historical standards, though the continued improvement is certainly a reason for investors to be optimistic.
The important Expectations Index jumped to 82.4 from 74.3 last month. The Expectations Index is more closely correlated with the future direction of consumer spending than is either the headline index or the Present Situations index. People tend to spend based on how much they expect to earn in the future, not just based on what is in their wallet today.
This bodes well for consumer spending. However, the savings rate is a low 2.7 percent, making it hard to spend more by saving less, and until and unless consumers' incomes grow by a larger amount, it will be hard to increase spending substantially. In the past twelve months, inflation-adjusted, after tax consumer incomes have grown by just 1.1 percent from a year ago through March.
However, consumers may expect better times ahead when it comes to future income growth, regardless of the past year. Indeed, the survey indicated consumers were considerably more optimistic about the short-term outlook. Those expecting business conditions to improve over the next six months increased to 19.2 percent from 17.2 percent, while those expecting business conditions to worsen decreased to 12.1 percent from 14.8 percent.
They also had a more upbeat outlook for the labor market. Those expecting more jobs in the months ahead improved to 16.8 percent from 14.3 percent, while those expecting fewer jobs decreased to 19.7 percent from 21.8 percent.
The proportion of consumers expecting their incomes to increase dipped slightly to 16.6 percent from 16.8 percent following gains in this metric in previous months, while those expecting a decrease edged down to 15.3 percent from 15.9 percent, continuing a downward trend in that metric.
Even with the slight dip in the percentage of those expecting an increase in incomes, the fact that a greater proportion of consumers now expects more income in the months ahead vs. less is noteworthy, based on a view of the trends since the recession ended.
After all, consumers might know conditions at their own employer better than outside analysts might. If consumers are right on the direction of their income growth, then we may see more consumer spending growth in the not-so-distant future.
And consumers' appraisal of present-day conditions improved in May. Those saying business conditions are "good" increased to 18.8 percent from 17.5 percent, while those stating business conditions are "bad" decreased to 26.0 percent from 27.6 percent. Consumers' assessment of the labor market was also more positive, though consumers still see labor market conditions as difficult.
Those claiming jobs are "plentiful" increased to 10.8 percent from 9.7 percent, while those claiming jobs are "hard to get" edged down to 36.1 percent from 36.9 percent. The trend is in the right direction, even though the levels of the metrics for both business conditions and availability of jobs are hardly at robust levels.
Lynn Franco, Director of Economic Indicators at The Conference Board, summed it up thusly: "Consumer Confidence posted another gain this month and is now at a five-year high (Feb. 2008, Index 76.4). Consumers' assessment of current business and labor-market conditions was more positive and they were considerably more upbeat about future economic and job prospects. Back-to-back monthly gains suggest that consumer confidence is on the mend and may be regaining the traction it lost due to the fiscal cliff, payroll-tax hike, and sequester."
All of these portend the potential for an improved economy in the months ahead, but one potential caveat is that consumer surveys don't always have a perfect predictive power.
View Comments and Join the Discussion!
Posted-In: Conference Board Consumer Confidence Index Expectations Index Present Situation IndexNews Economics Markets Best of Benzinga