Benzinga's M&A Chatter for Friday May 24, 2013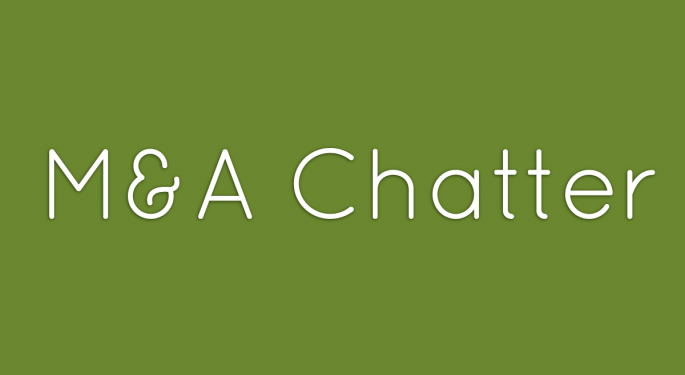 The following are the M&A deals, rumors and chatter circulating on Wall Street for Friday May 24, 2013:
SAP Reportedly Ends Acquisition Talks with Jive Software
The Rumor:
SAP (NYSE: SAP) has reportedly ended acquisition talks with Jive Software (NASDAQ: JIVE), according to Bloomberg. A source close to the situation indicated SAP never had an interest in acquiring Jive. SAP acquired SAP Jam, an enterprise social network solution, when they purchased SuccessFactors, and a Jive acquisition would have given them a similar platform.
Jive Software closed at $16.67 Friday, a gain of 5.5% on 3 times average volume.
Valeant Reportedly Near $9B Acquisition of Bausch & Lomb
The Rumor:
Valeant Pharmaceuticals (NYSE: VRX) is close to a deal to acquire eye-care company Bausch & Lomb for $9 billion, according to the Wall Street Journal. The deal could close in the next week, according to sources. Warburg Pincus recently filed for an IPO of Bausch & Lomb.
Spokespersons for Valeant and Bausch & Lomb were unavailable for comment.
Valeant Pharmaceuticals closed at $84.47 Friday, a gain of 13% on 6.5 times average volume.
Yahoo Enters Bidding for Hulu
The Rumor:
Yahoo (NASDAQ: YHOO) has reportedly entered the bidding process for streaming video site Hulu, according to Reuters. On May 20, Yahoo announced a deal to acquire Tumblr for $1.1 billion, and has made several other acquisitions recently. Negotiations for French streaming video web site DailyMotion reportedly had fallen through.
Hulu is jointly owned by Disney (NYSE: DIS) and News Corp (NASDAQ: NWSA).
Yahoo closed at $26.33 Friday, a gain of 1% on average volume.
View Comments and Join the Discussion!