Google and Facebook Going to War Over Mapping App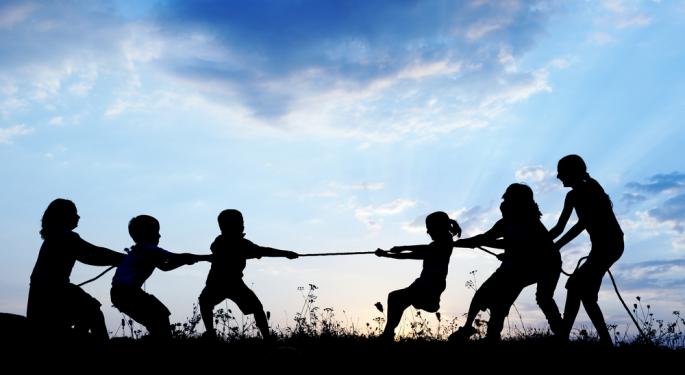 A bidding war between Google (NASDAQ: GOOG) and Facebook (NASDAQ: FB) may be about to erupt, according to Bloomberg. The object of the conflict is Waze, a smartphone-mapping app with unique social features.
Waze provides driving directions with a twist. Users submit information about traffic tie-ups, speed traps, and road closings. Waze alerts and even reroutes users around problem areas.
Waze is a free service and generates revenue via location-based advertising. That capability, plus more than 40 million users (and growing) makes the product attractive. Whether Waze is as attractive as it thinks it is remains to be seen.
One Bloomberg source said Waze is open to acquisition discussions, if the price is right. The price? $1 billion or more. The company is also reportedly considering remaining independent and raising venture capital if a suitable deal can't be reached.
Mapping capability on smartphones and other devices is increasingly important. Mapping with cool features is a bonus Google, Facebook, and other tech companies can't resist. Facebook, according to Bloomberg sources, has already held private talks to buy Waze. This caught the attention of Google, which doesn't want Facebook to gain an advantage in this all-important area.
Business Insider spoke with industry insiders who listed some of the reasons Facebook would be interested in acquiring Waze.
First, Waze would improve Facebook's local search, an increasingly important application on mobile devices.
In addition, Facebook needs a competitive mapping application to draw users away from Google maps. Waze is so unique, if Facebook owned it, users would prefer it.
Waze would generate more usage of Facebook on mobile – driving up traffic on other components, such as the News Feed. Anything that would drive traffic to Facebook would attract advertising dollars and that's the real bottom line.
Finally, acquiring Waze, in which Google clearly has interest, might give Facebook an advantage in negotiations with Google surrounding conditions for use of Google's Android OS.
There is one catch for Facebook. The company wants Waze to move its R&D operations to California from Israel. For Waze, at least for now, that's a non-starter.
Google has reasons to be interested in Waze also. Waze would potentially make Google Maps the premier mapping product on smartphones and other handhelds and the acquisition would keep Facebook from getting it.
Microsoft(NASDAQ: MSFT), a Waze investor, has not yet been mentioned as a possible participant in the bidding war. Neither has Apple (NASDAQ: AAPL), which has its own competing mapping app.
Waze, meanwhile, can sit back, far away from the battlefield, and watch the bidding games begin.
As of this writing, Jim Probasco had no position in any mentioned securities.
Posted-In: News Rumors Topics M&A Startups Movers Tech Media Best of Benzinga
View Comments and Join the Discussion!