Tesla Becomes Only American Auto Company to Fully Repay the Government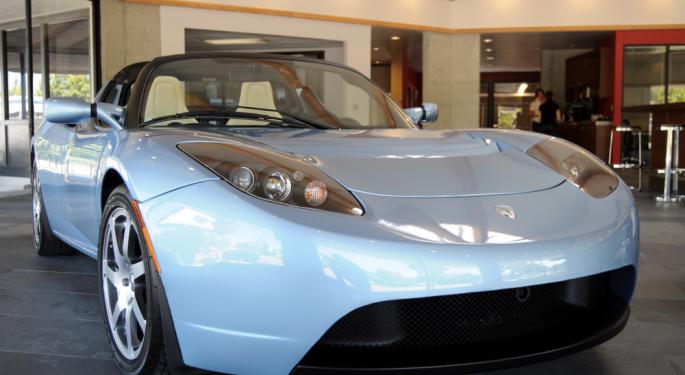 If you happen to be at a party with Elon Musk, first, congratulations on whatever made you your first couple of million, and second, you might want to steer clear because these days, the guy has to have an ego that would fill the room.
And let's be honest. If any of us had a year like he has, we would probably feel pretty good about ourselves too. 2013 has been especially kind to him and his company, Tesla Motors (NASDAQ: TSLA). Let's run down why this has been the summer of financial love for the company.
The company announced that it was profitable for the first time.
It's forecasting a higher-than-expect sales year.
It raised $1 billion in its last round of fundraising.
Its Model S earned the highest auto test ratings ever from the well-respected Consumer Reports magazine.
If that's not enough to make you the self-proclaimed most interesting man alive, on Wednesday, he scored some more major bragging rights.
Tesla wrote a $451.8 million check to the Federal Government to pay off its department of Energy loan plus interest, according to Bloomberg.
It's certainly good news that American taxpayers are now $451.8 million richer (in theory), and Tesla would humbly like you to know that it's "the only American car company to have fully repaid the government." (The italicized "only" courtesy of Tesla.)
Musk is likely sending presidential candidate, Mitt Romney a personal note thanking him for his confidence in the American automotive startup. During his campaign, Romney called Tesla a "loser" and lumped it in with Solyndra-- now bankrupt, and Fisker Automotive, who received a $20 million buyout offer although its reported value is $2.2 billion. (Wonder who came up with that valuation?)
As a matter of perspective, if you were to walk into a Fisker dealership (assuming one actually existed) and make a comparable offer for its $80,000 Karma, you would offer less than $8,000 for it.
All of this to show why so many people were wondering who Romney talked to before he compared Tesla to Fisker and why Elon Musk has to be ecstatic to prove Romney wrong.
But traders have joined in the Tesla exuberance. The stock is up 171 percent in the past six months and while those who held the stock when it was a 20-something dollar and change name are feeling good, 171 percent in six months doesn't exactly scream, entry point. What it does scream is, bubble.
Much of the move was a result of a short squeeze and although the stock has some fundamentals to back it up, history tells us that there's likely a better entry point. Sometimes a good risk manager misses a move higher and they're happy to do it.
Disclosure: As of this writing, Tim Parker had no position in Tesla and has no proof that Elon Musk has an ego.
Posted-In: Elon Musk tesla motorsNews Financing Retail Sales Legal Events Best of Benzinga
View Comments and Join the Discussion!