Benzinga's M&A Chatter for Tuesday May 21, 2013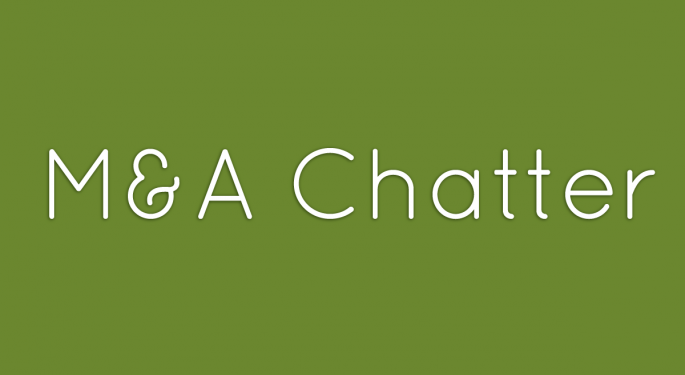 The following are the M&A deals, rumors and chatter circulating on Wall Street for Tuesday May 21, 2013:
NY Post Reports Saks Hires Goldman Sachs to Explore Strategic Alternatives
The Rumor:
Shares of Saks (NYSE: SKS) surged sharply higher after-hours on a report from the NY Post that the company has hired Goldman Sachs as an advisor to explore strategic alternatives, including a possible sale. Potential buyers mentioned were KKR (NYSE: KKR) and Leonard Green.
A spokesperson for Saks told Benzinga it was "against policy to comment on rumors or speculation." A KKR spokesperson also declined comment.
Saks closed at $13.67 Tuesday, and traded over $16.00 after-hours.
Sprint Raises Bid for Clearwire to $3.40/Share
The Offer:
Sprint (NYSE: S) announced Tuesday that it has submitted an increased offer to the Board of Directors of Clearwire (NASDAQ: CLWR) to acquire the approximately 50 percent stake in Clearwire it does not already own for $3.40 per share. Sprint said this was their "best and final offer." The latest offer is 14 percent higher than Sprint's previous offer of $2.97 per share announced on Dec. 17, 2012.
Clearwire confirmed that it had received the revised offer from Sprint and later announced it had rescheduled the date of its upcoming Special Meeting of Stockholders to Friday, May 31, 2013.
Clearwire closed at $3.40 Tuesday, a gain of 4% on 8.5 times average volume.
Sony's Board May Discuss Spinoff of Entertainment Division
The Rumor:
Sony (NYSE: SNE) shares spiked higher early Tuesday afternoon, on a report from Nikkei the company's board may discuss spinning off its entertainment division. The move was proposed by investor Daniel Loeb of Third Point, who suggested the company could sell a 20% stake in that business, via an IPO.
Sony closed at $22.91 Tuesday, a gain of 9% on 5.5 times average volume.
View Comments and Join the Discussion!