Xbox One Announced as Microsoft Takes on Sony's PlayStation 4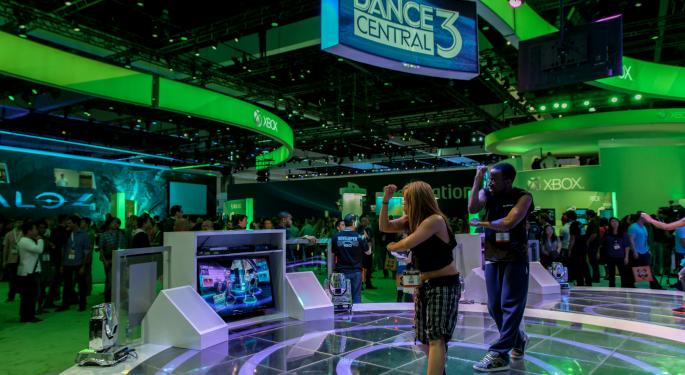 The rumors are over and the expected names (Xbox 720, Xbox Fusion, Xbox Infinity, etc.) are out. Microsoft (NASDAQ: MSFT) has unveiled its next game console, which is now officially known as Xbox One.
Today's event did not contain the two hours of game hype that accompanied Sony's (NYSE: SNE) PlayStation 4 event last February, but Microsoft did unveil a handful of big titles, including Forza Motorsport 5 (which will be released alongside Xbox One) and Quantum Break (an unusual game that uses live action footage to tell a story).
Electronic Arts (NASDAQ: EA), which famously said that it is no longer developing games for Wii U, announced that it is developing FIFA 14 Ultimate Team exclusively for Xbox One. Other versions of the game will reportedly appear on Xbox 360, PlayStation 3 and PC.
Activision's head of publishing, Eric Hirshberg, took the stage to formally announce the first next-gen Call of Duty game -- Call of Duty: Ghosts. The Xbox One version will follow in the footsteps of its Xbox 360 predecessors, as it will be the first to receive downloadable content. Activision said that the game will include an entirely new world and entirely new characters, all of which were built for a brand-new next-gen engine.
"This will be the most beautiful Call of Duty game we've ever made," Hisrhberg told attendees during the event this afternoon.
Stephen Gaghan (the Oscar-winning screenwriter behind the film Traffic) was hired to write the story for Call of Duty: Ghosts. Activision hopes to produce a game that is more meaningful, more powerful and more emotional than its predecessors.
Gaghan is not the only Hollywood star that is working on an Xbox One project. Steven Spielberg will produce a brand-new Halo TV series exclusively for Xbox Live. This announcement came as quite a surprise given the lack of success that filmmakers, including Peter Jackson, have had in trying to produce a movie based on that franchise. By producing the project as a series for Xbox Live, however, Microsoft will get to maintain complete control over its creation.
Nancy Tellem, the President of Microsoft's entertainment division, referred to the Halo project as a "premium TV series" for Xbox Live. It is not yet clear if that means users will have to pay extra for this content.
In addition to game studios and Hollywood talent, Microsoft announced a new deal with the NFL that will synch users' fantasy football leagues with actual games, allowing for real-time updates. A similar feature is also being implemented for other sports, including basketball, but Microsoft did not announce a new partnership with the NBA.
Microsoft did, however, tease the many ways that it intends to one-up any plans that Apple (NASDAQ: AAPL) may have to revolutionize TV.
The Windows maker started by showing off Xbox One's impressive control system -- users can quickly and seamlessly talk to their Xbox or perform simple gestures to switch between games, TV shows, movies, Internet Explorer and other programs. The speech recognition was particularly impressive; when Yusuf Mehdi (SVP of Microsoft's interactive entertainment business) told Xbox One to "go to TV," it immediately jumped from a game to a television show. He did this repeatedly to demonstrate just how fast and responsive Xbox One will be when it is released later this year.
Unlike Sony, Microsoft took a few moments to show off the look of its new console, which could be described as shiny and boxy. It looks nice, but the case is nothing more than a cover that hides the guts of the system. The internal features are what consumers really care about.
On that note, Microsoft announced that the console will ship with a new version of Kinect. This is the source of Xbox One's voice recognition and gesture capabilities. The new Kinect is so powerful that Microsoft claims it can detect muscle movement and will be able to tell when your heart is racing during a workout.
Gamers will be intrigued to learn that Microsoft Game Studios (the company's internal game development and publishing division) plans to release 15 exclusive games during Xbox One's first year at retail. Eight of those games will be from brand-new, unannounced franchises.
To put that into perspective, Nintendo (OTC: NTDOY) has only released two games for Wii U since it launched eight months ago. Only one of them, NintendoLand (a game that most people got for free by purchasing the deluxe version of the console) is from a "new" franchise. However, it features a plethora of familiar themes and environments, including those that are based on the Mario, Zelda and Donkey Kong games.
In June, Nintendo will release Game & Wario, followed by Pikmin 3 in August and a Zelda remake after that. All three of those games came from existing franchises.
Xbox One does not have a touch screen controller along the lines of Wii U, or a touchpad along the lines of PlayStation 4. It will, however, come with a revised controller that supposedly includes 40 tweaks/enhancements, including analog sticks with a degree of tactical feedback.
Additionally, Xbox One will feature a "snap mode" that mirrors Windows 8, allowing users to keep two programs running at the same time. This will be particularly useful for Xbox One's Skype features, which allow users to chat (with 1080p resolution) while gaming.
Last but not least, Microsoft teased the future of TV by noting that its interactive elements for sports (ex: real-time fantasy football updates) could also be applied to political debates, major media events (such as the Academy Awards), and of course the Super Bowl.
Microsoft's Xbox presentation concluded with the aforementioned Call of Duty reveal and a countdown to remind consumers that there will be another event -- and another batch of teasers -- during the next Xbox event in 19 days.
Louis Bedigian is the Senior Tech Analyst and Features Writer of Benzinga. You can reach him at 248-636-1322 or louis(at)benzingapro(dot)com. Follow him @LouisBedigianBZ
View Comments and Join the Discussion!
Posted-In: Call of Duty: Ghosts Eric Hirshberg Microsoft Nancy Tellem Xbox One Yusuf MehdiNews Tech Best of Benzinga