Report Indicates Economic Expansion at Moderate Pace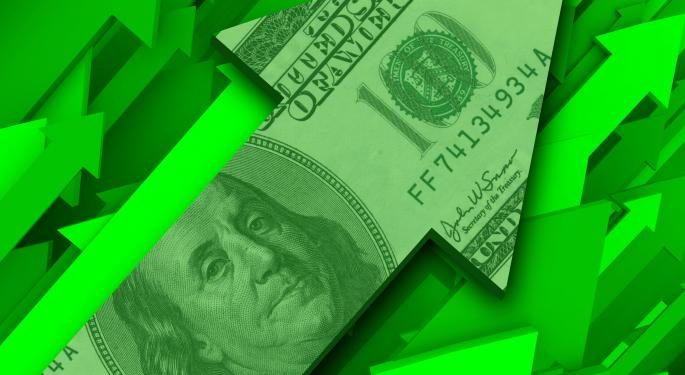 The Chicago Fed National Activity Index was published Monday morning with a metric that points to a slowdown in growth in April, but a view over the past three months suggests economic growth is continuing around the economy's long run potential growth rate.
This measure is a comprehensive look at 85 national economic indicators, and measures the baseline at zero for economic growth that is at the economy's trend rate of growth, or its long term potential.
Currently, the economy's potential rate of growth is thought to be around 2.5 percent, based on growth of the labor force plus productivity gains, measured over a longer time horizon. There is generally not a precise figure on the potential growth rate of the economy looking ahead, as it depends on the unknowns of productivity gains and how many people enter the labor force.
A reading of zero, then, indicates economic expansion of around 2.5 percent. Sustained readings below -0.70 may indicate recession, while negative readings that are above -0.70 represent growth below par. Sustained readings above +0.70 may indicate inflationary pressures.
In April, the index printed at -0.53, which indicates the economy expanded, but at a slow pace. However, economists prefer to focus on the three-month moving average, as the monthly figures bounce around. For example, in March, the one-month figure was -0.23, after a +0.63 read in February and a -0.56 print in January. The three-month moving average smooths this volatility out, and came in at -0.04. This means growth near the economy's long term potential, and is roughly similar to readings in the past number of months.
The downturn in the index in April was centered around manufacturing, with a decline in the manufacturing component of the Industrial Production report and other data on the sector. Housing also contributed to the decline.
However, 32 of the 85 individual indicators made positive contributions to the CFNAI in April, while 53 made negative contributions. Forty-four indicators improved from March to April, while 41 indicators deteriorated. Of the indicators that improved, eighteen made negative contributions.
Production-related indicators contributed –0.34 to the CFNAI in April, down from –0.04 in March. Industrial production declined 0.5 percent in April after increasing 0.3 percent in March, and manufacturing production decreased 0.4 percent in April after moving down 0.3 percent in the previous month.
Employment-related indicators made a neutral contribution to the CFNAI in April, down from +0.01 in March. While the unemployment rate decreased slightly in April, growth in nonfarm payrolls made a neutral contribution to the employment, unemployment, and hours category for the second straight month.
The sales, orders, and inventories category contributed –0.01 to the CFNAI in April, up from –0.04 in March. The consumption and housing category contributed –0.17 to the CFNAI in April, down slightly from –0.15 in March. Housing starts decreased to 853,000 annualized units in April from 1,021,000 in March, although housing permits increased to 1,017,000 annualized units in April from 890,000 in the previous month.
There are some explanations why this is so. Manufacturing has hit a soft patch in the past couple months. This may be due more to an inventory cycle, coupled with soft retail sales earlier this year, than to broader economic weakness. As retailers and wholesalers have more stock on hand that they desire, they will naturally order less from manufacturers.
Thus, a slowdown in manufacturing could be temporary, and may be related more to inventories rather than to final sales. Indeed, manufacturing surveys from regional Federal Reserve banks, such as the Empire State Survey from the New York Fed and the Philly Fed Survey, show manufacturers are more optimistic about future conditions.
Housing starts may also be determined by weather, along with available land and workers. Some reports indicate some former construction workers have moved on to other jobs and are no longer available to support increased building at a rapid pace. The National Association of Home Builders cited the lack of land and labor in explaining some of the challenges in starting work on homes where permits have already been authorized. As such, housing-related softness, as reflected in the number of new starts, may not be due to a lack of demand, but rather constraints of resources.
The bottom line: the soft data in Monday's report may be temporary, and explained by circumstances that may correct over coming months.
Posted-In: Chicago Fed National Activity Index National Association of Home BuildersNews Economics Markets Best of Benzinga
View Comments and Join the Discussion!