Can Electronic Arts, Others Profit from Wii U Development?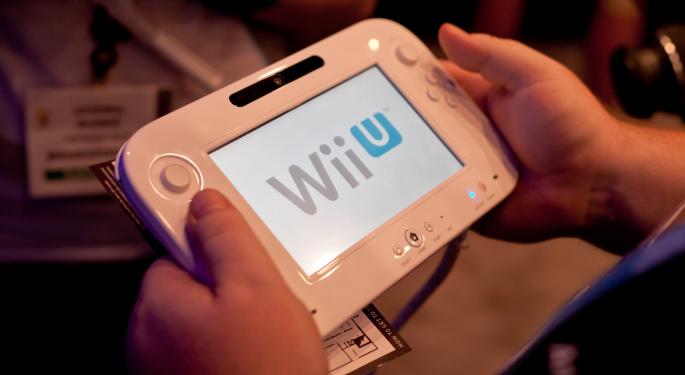 Activision (NASDAQ: ATVI), the publisher behind the hugely successful Call of Duty franchise, has repeatedly stated that it has been disappointed by the launch of Nintendo's (OTC: NTDOY) latest console, Wii U.
Earlier this month, Avalanche Studios (the developer behind the Grand Theft Auto-inspired Just Cause 2) revealed that its Wii U developments kits are collecting dust.
Insomniac Games, which is famous for the Ratchet & Clank series and the original Spyro games (which morphed into Activision's hugely successful Skylanders series), recently announced that it is not currently working on a single game for Wii U.
This week Electronic Arts (NASDAQ: EA) sent shockwaves through the industry when a company spokesperson told Kotaku that the publisher is not currently making any games for Wii U.
When asked about the company's unprecedented partnership with Nintendo, the spokesperson simply said that EA fulfilled its agreement last fall.
This announcement may not concern investors who have been watching EA's decline. In addition to earning the award for the Worst Company in America, EA has screwed up Sim City, admitted that Online Pass was a failure by terminating the concept and closed two studios.
Why should Nintendo care about losing a studio and publisher with so many problems?
Like it or not, EA is still a powerful force within the game industry. The company produces several hit franchises, including Madden NFL, Battlefield, FIFA, The Sims and Need for Speed.
In good times and in bad times, Madden has proven to be a cash cow that EA can count on. Sales have fluctuated heavily over the years, but there is a prevailing trend that indicates how each sequel will perform: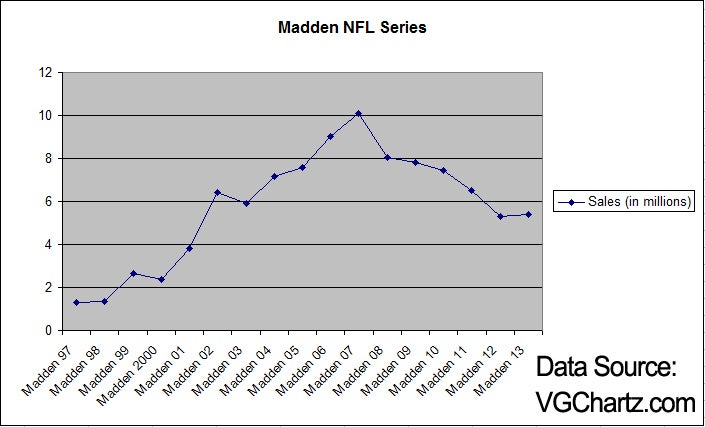 Madden 97 (the first Madden game for PlayStation and Saturn) sold a mere 1.32 million copies. At the time, EA was still developing Madden games for older game consoles, such as the Genesis and Super NES. The company continued that development strategy for one more year.
When EA dropped the SNES and Genesis (as well as the Saturn, which had failed at retail), it released a new Madden for Nintendo 64 (which was only a year old at the time) instead. Combined sales of the PlayStation and N64 versions exceeded 2.6 million units.
This was the beginning of an important trend for EA: Madden games would go on to sell the best during the first two to three years of each console generation.
This is illustrated by the sales decline for Madden 2000 (which arrived in 1999, one year before PlayStation 2) and the sales spike for Madden 01 (released in 2000, the same year PlayStation 2 arrived) and Madden 02 (released in 2001, the same year that GameCube and the first Xbox debuted).
Aside from a brief decline in 2002 when Madden 03 was released, Madden sales continued to rise at a fairly steady rate. They peaked in 2006 (the year the original Wii and PlayStation 3 arrived) when Madden 07 was released. At that time, the series appeared on 10 different platforms.
Up until Wii U arrived last year, there had not been any new consoles released since 2006. Thus, it should not be too surprising to learn that Madden sales declined from 2007 to 2011.
Thus far, EA has only confirmed the next Madden -- Madden 25 -- for Xbox 360 and PlayStation 3, but more platforms are likely to be announced in June at the Electronic Entertainment Expo.
Wii U, however, will not receive a new Madden this year.
Whatever you think of EA, this is a critical blow to Nintendo. By sidestepping Wii U, it indicates that EA cannot (or does not expect to) profit from Wii U development.
EA has not chosen to ignore a game machine since Sega released the Dreamcast in 1999. That console failed at retail and was retired two years after its release.
Nintendo is a stronger company than Sega ever was and can weather this storm, rebound with a new console and make the world forget all about its mistakes. In the meantime, however, EA's decision is likely to go down in history as one of the most damaging scenarios in Wii U's history.
Louis Bedigian is the Senior Tech Analyst and Features Writer of Benzinga. You can reach him at 248-636-1322 or louis(at)benzingapro(dot)com. Follow him @LouisBedigianBZ
Posted-In: Avalanche Studios electronic arts Insomniac Games Madden NFL 25 Nintendo Wii UNews Tech Best of Benzinga
View Comments and Join the Discussion!