Market Cap vs. Vehicles Offered: Is Tesla an Anomaly?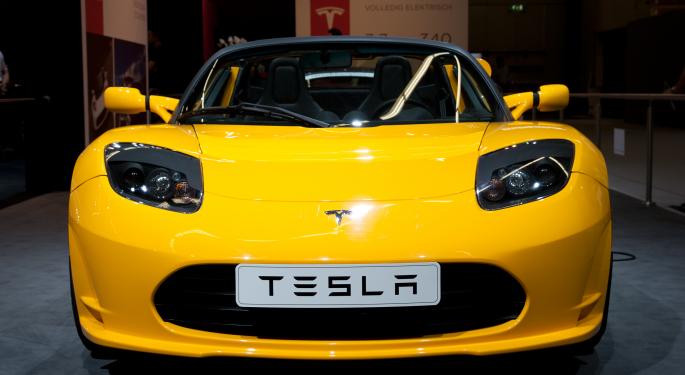 To say Tesla Motors (NASDAQ: TSLA) has had a good week would be a massive understatement.
Before its earnings announcement on May 8, Tesla was already gaining some serious steam throughout April. After closing the month of March at $37.89, the automaker finished April at $53.28, +40.61 percent higher.
Then came the earnings announcement. EPS $0.12 vs. $-0.01. Revenue $562M vs $500.2M. 5,000 new Model S vehicles in Q1, exceeding guidance of 4,500. 5,000 more Model S vehicles expected in Q2.
The stock soared on the announcement, closing on May 9 at $69.40. +28.54 percent since May 1.
On May 10, Consumer Reports gave the Model S a 99 out of 100 rating, and a WSJ article surfaced staking a positive take on the automaker. Tesla up another +10.60 percent that day.
After Monday's massive follow-through to the tune of an additional +14.38 percent, Tesla opened Tuesday morning's session just north of $94 following a price target increase to $103 at Morgan Stanley.
The innovative automaker has posted a 52-week gain of +198.3 percent.
To put it in perspective, Lawrence McDonald (@ConvertBond) tweeted the following stat:
Market Capitalization –
The biggest difference here – Tesla only has one car.
Talk about a good week.
While Tesla is seeing some profit-taking this afternoon, the recent run up raises some seriously intriguing questions for the future – What happens when they produce more vehicles? While this move is now parabolic, can the fundamental grounds for these recent gains set a new floor at higher prices?
Whatever the case may be, Tesla has had an extremely entertaining and historic short-term. For now, we'll have to sit back and see how the fast money plays it.
Posted in: News Price Target Management Economics Success Stories Markets Tech Trading Ideas Best of Benzinga