Samsung's New Tech is 133 Times Faster than 4G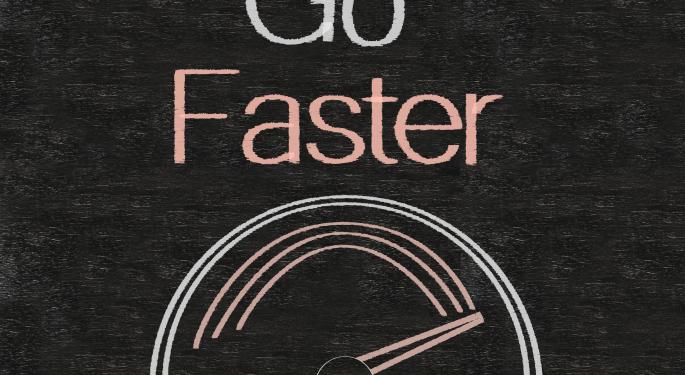 Don't get too excited -- it's seven years away.
Samsung is testing a new high-speed mobile Internet technology that will blow the lid off 4G and allow users to download full HD films in a couple of seconds.
According to an AppleInsider translation of a Yonhap News piece, Samsung has created a 5G network that can achieve upload and download speeds of at least 10 gigabits per second (Gbps). That's roughly 133 times faster than the fastest 4G LTE networks, which can only achieve maximum upload and download speeds of 75 megabits per second (Mbps).
Samsung's technological breakthrough comes after NTT DoCoMo (NYSE: DCM) achieved similar results in February. NTT DoCoMo is a network carrier, however; Samsung is not.
NTT DoCoMo has not set a date for when it expects its technology to be marketed to the masses, but Samsung hopes to have its 5G tech ready for carriers by 2020.
While it is only natural for mobile phone makers and carriers to seek out faster and more efficient technology, these announcements come less than a year after Apple (NASDAQ: AAPL) was finally persuaded to adapt 4G LTE. Even now (several years after its introduction), 4G is still considered to be the fastest and most advanced technology around. However, many users have yet to upgrade.
Carriers like 4G because it has allowed them to raise their rates (most 4G plans cost more than 3G) while opening the door for additional services. FaceTime, for example, was not officially possible on iOS devices until Apple upgraded to 4G. Until then, users were forced to stick with Wi-Fi or implement a workaround.
Entertainment providers -- particularly game companies and movie studios -- should be very excited about the prospects of 5G. In addition to fast movie downloads (which are already somewhat possible via Internet streams), 5G speeds could improve the experience of playing games online. In fact, it could make it possible to develop a high-end multi-player Call of Duty game for smartphones. That would be huge for Activision (NASDAQ: ATVI).
Better still, Sony (NYSE: SNE) could use 5G to improve the streaming technology it acquired from Gaikai last year. The company hopes to stream full games to consumers in the future, allowing them to play games online without a single download.
Louis Bedigian is the Senior Tech Analyst and Features Writer of Benzinga. You can reach him at 248-636-1322 or louis(at)benzingapro(dot)com. Follow him @LouisBedigianBZ
Posted-In: Activision Apple Call of Duty FaceTime NTT DOCOMONews Success Stories Tech Best of Benzinga
View Comments and Join the Discussion!