Did Barnes & Noble's Nook Just Become a Kindle Clone?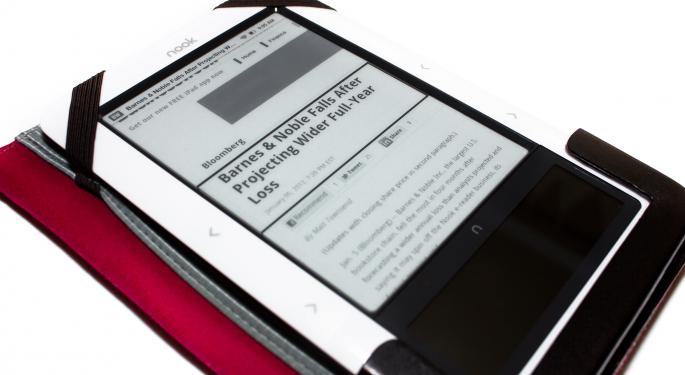 The splashy ad on the Barnes & Noble (NYSE: BKS) website, says it all: "All New NOOK HD Tablets – now with over 700,000 Android apps & games." The NOOK, it seems, has gone over to the dark side by providing access to the entire catalog of Android apps on Google's (NASDAQ: GOOG) Play online store.
It really had no choice. With a paltry 10,000 apps, the NOOK has long been a lesser tablet among giants, like Amazon.com Inc.'s (NASDAQ: AMZN) Play-connected Kindle and Apple Inc.'s (NASDAQ: AAPL) iPad, sporting more than 300,000 apps.
In addition to the apps upgrade, Barnes & Noble is adding services such as Gmail and Google Maps to its Nook HD tablets. The company hopes to improve the competitiveness of the devices according to a report in The Wall Street Journal.
The net gain for Barnes & Noble might make the Nook, which comes in both a seven and nine-inch tablet size, more competitive with Amazon's Kindle lineup. The downside, however, could result in the Nook becoming a Kindle clone. This could be especially true if users install Amazon's Kindle app and start downloading Kindle titles as well as digital books from Google Play instead of making their purchases from Barnes & Noble.
Disappointing holiday sales of Nook tablets led to the decision to ramp up the app selection, according to William Lynch, Barnes & Noble's chief executive. The company reported in February that Nook revenue fell 26 percent for the quarter ended Jan. 26.
As for that "downside" issue in the event Nook users install the Kindle app, Lynch said, "We think readers will continue to turn to us for reading, for their digital books and their digital magazines." The statement might be more hopeful than evidence-based.
The move by Barnes & Noble comes at a time when uncertainty about the company's future is growing. The bookstore chain said in February that the company's largest shareholder, Leonard Riggio, expressed interest in buying the retail stores, leaving the Nook side of the business and the company's college stores remaining with the company. Lynch Thursday declined to discuss the situation.
Uncertain as things are for Barnes & Noble, for Google, the move is a win and a big part of the company's effort to make its services more commonplace on all mobile devices. Since Google gets a cut of Android app and digital media sales through the Google Play store, it almost certainly will share app store revenue with Barnes & Noble.
Nook Color devices and Barnes & Noble's e-readers will not be able to take advantage of the company's hook up with the Google Play Store.
At mid morning Friday, Google shares are trading at $842.24, up 1.5 percent; Barnes & Noble is up more than three percent at $18.87, and Amazon is up just over two percent at $257.94.
At the time of this writing, Jim Probasco had no position in any mentioned securities.
Posted-In: News Wall Street Journal Rumors Topics Asset Sales Events Tech Media Best of Benzinga
View Comments and Join the Discussion!