Mother's Day: 9 Gifts That Are Way Cooler Than a Bouquet of Flowers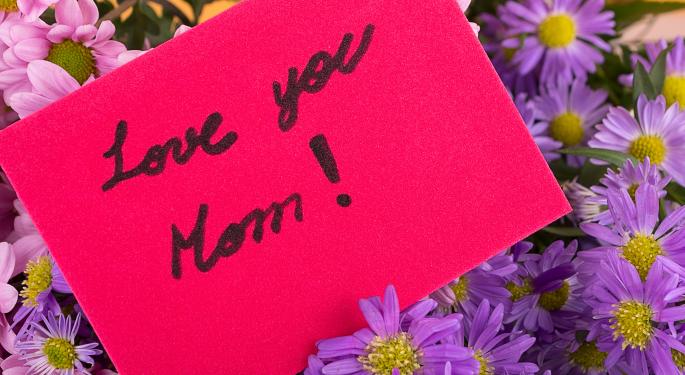 Mother Day's is right around the corner. Do you know what you're getting your ma?
If you're like most guys, at least, the answer is no. And if you do, chances are you're probably not thinking too much out the box. A call to 1-800-Flowers (NASDAQ: FLWS), perhaps? Or a box of chocolates?
The truth is, you can do a lot better. Especially for the prices, too.
Benzinga poured over the options and selected nine gifts that are sure to please, whether you're made of gold or an impoverished recent college graduate.
Whether it's an Apple (NASDAQ: AAPL) iPad or some Pad Thai courtesy of a Groupon (NASDAQ: GRPN) deal, our list of Mother's Day gifts has you covered.
Posted-In: Diet Coke iPad Laptop Mother's DayNews Events Tech General Best of Benzinga
Close Next 1/9 Previous
1. An iPad

To parrot another Benzinga staff member

who reported

on the popularity of iPads among moms earlier this week, 73 percent of moms would rather receive an iPad over an bouquet of flowers.

Although the iPad -- starting at $329 -- is a few times more expensive than some flowers, its lifespan is hundreds of times greater and its myriad uses grow everyday. An e-reader is also not a bad option.

2. A Bunch of Diet Coke

To some this may seem a stretch, but if

your Diet Coke addiction

runs as strong as that of some girls we know, a few 24-packs of Diet Coke may gain more than a few brownie points with mum.

It may lack the allure of a new necklace or the sleek shine of a new iPad, but for the cash strapped, it's an inexpensive alternative to tradition that will taste just as sweet.

3. A Relaxing Spa Treatment

For the same price of a bouquet of flowers, provide your mom with a relaxing, pampering treatment she deserves for all those years she spent changing your Pampers.

4. A Beautiful Necklace from Pandora's Charms

Whether it be a pair of earrings or a shiny necklace, Pandora Charms offers a variety of genuine jewelry starting at prices that rival a bouquet of flowers. (Courtesy of Pandora Charms).

A gift from Pandora Charms won't wilt in a week, either.

5. A Caribbean Cruise

For those with a little more disposable income, there are few options that beat a special vacation for mom (and pop). From a trip to

Disney

(NYSE:

DIS

) World to a

Royal Caribbean

(NYSE:

RCL

) cruise, provide a relaxing and exotic Mother Day's gift she won't soon forget! You might be better off dodging

Carnival

(NYSE:

CCL

) for now, though (Courtesy of Royal Caribbean).

6. Some Yummy Edible Arrangements

For a tasty twist on a traditional bouquet, give mom a sweet and tasty alternative, courtesy of

Edible Arrangements

! The price is comparable and chances are she'd prefer something a little more tangible.

7. A Cell Phone Upgrade

Like many of our parents, chances are your mom isn't necessarily in the "early adopters" part of the diffusion of innovation curve. She may not even own a smartphone yet.

By hooking her up with an HTC One, or an even more wallet-friendly Android phone, you'll make your mom feel cooler than a polar bear's toenails while providing her with dozens of features her old phone likely lacks (Courtesy of HTC).

8. A Brand New Laptop

Few things feel better than powering up a brand spankin' new laptop for the first time. For under $600, you can provide your mom with an awesome new machine, especially if her current computer is outdated or non-existent (Courtesy of Dell).

9. Groupon Deals

Whether it's a vacation, luxurious dinner, spa treatment or other items on this list, gifting your mom with some Groupon deals will be not only feel awesome for her; it'll feel good on your wallet, as well. Two can win.
View Comments and Join the Discussion!