ADP Employment Report Shows 119,000 New Jobs In April vs. Expectations of 150,000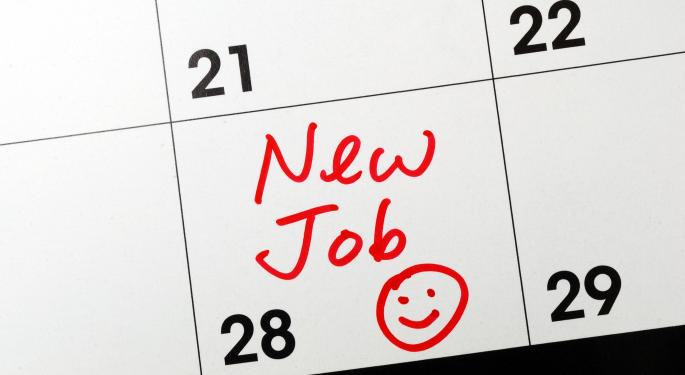 U.S. private employers added just 119,000 jobs, in data released Wednesday morning from ADP, the nation's largest processor of payrolls. This was the fewest number of new jobs added since September 2012.
Economists were expecting 150,000 new jobs in the ADP report, and this followed a gain of 131,000 that was smaller than first estimated.
February and March revisions were negative and subtracted a cumulative 66,000 from payrolls in those two months combined. Job growth has decelerated in every month since November, with the exception of one month.
These data serve as a prelude to the more-important Employment Situation report on Friday from the Bureau of Labor Statistics, more commonly known as non-farm payrolls. Unlike the ADP data, the BLS report includes government payrolls and also includes other, important information, including data on wages and hours worked, for example. Expectations are for non-farm payrolls to show job growth of 148,000 or so, with the unemployment rate at 7.6 percent.
In the ADP press release, Mark Zandi, chief economist of Moody's Analytics, said, "Job growth appears to be slowing in response to very significant fiscal headwinds. Tax increases and government spending cuts are beginning to hit the job market. Job growth has slowed across all industries and most significantly among companies that employ between 20 and 499 workers."
In the ADP data, we learn that businesses with 49 or fewer employees added 50,000 jobs in April. Employment levels among medium-sized companies with 50-499 employees rose by 26,000, while employment at large companies – those with 500 or more employees – increased by 43,000.
Goods-producing industries added 6,000 jobs in April. This was the slowest pace of growth in seven months for this sector. Construction growth picked up in April and the industry added 15,000 jobs over the month, though it accounted for most of the weakness in goods production job growth in March.
This corresponds to the fact that housing has been a bright spot in the economy. Meanwhile, manufacturers shed 10,000 jobs in April—the first decline in three months and the largest since September 2012.
Service-providing jobs increased by 113,000, the weakest pace of growth in seven months. Among the service industries reported by the ADP National Employment Report, trade/transportation/utilities had the largest gain with 29,000 jobs added over the month. Professional/business services followed, adding 20,000 jobs, and financial activities added 7,000 jobs.
"During the month of April 2013, U.S. private sector employment increased by 119,000 jobs, representing the slowest pace of expansion since September 2012," said Carlos A. Rodriguez, president and chief executive officer of ADP. "The services sector generated the overwhelming majority of new jobs in April, contributing a total of 113,000, which helped to offset overall softness in the goods-producing sector, which was marked by a loss of 10,000 manufacturing jobs."
Later Wednesday, the Federal Open Market Committee will release its press statement following its meeting Tuesday and Wednesday. While no major policy changes are expected to occur at this meeting, some economists expect the Fed to begin to taper off bond purchases in the fourth quarter. Slower job growth and low inflation, as seen in other recent data, may allow the Fed to continue the bond-buying program longer than it would have otherwise.
View Comments and Join the Discussion!
Posted-In: ADP BLS Carlos Rodriguez Federal Open Market Committee Mark ZandiNews Economics Markets Best of Benzinga