America's Hottest New Food Is Made from WHAT?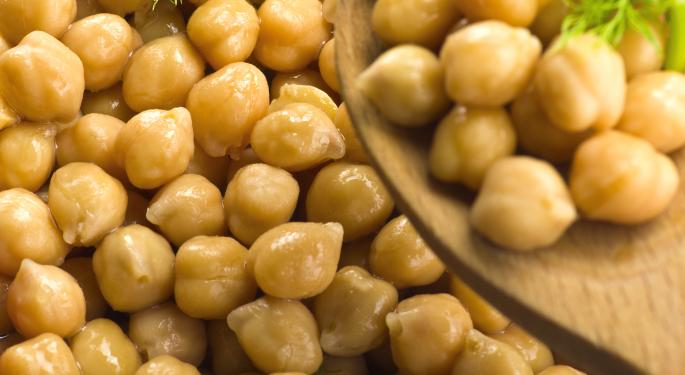 The boom is on and some U.S. farmers are falling all over themselves to plant this ancient legume that just happens to be a main ingredient in one of the country's fastest growing food crazes.
The legume? The lowly chickpea. The food craze? Hummus, that creamy, low-fat, Middle Eastern inspired spread that is quickly replacing French onion dip on the tables of health-conscious Americans everywhere.
Now, according to The Wall Street Journal, the largest U.S. hummus maker is trying to get farmers in the heart of Virginia's tobacco country to grow chickpeas as a secondary source of supplies in case of a crop failure in the Pacific Northwest, where most domestic chickpeas are grown today.
Sabra Dipping Co., jointly owned by PepsiCo Inc. (NYSE: PEP) and Israel's Strauss Group Ltd., wants to develop a product source close to its hummus plant near Richmond, as well as be geographically near enough to help in the identification of new chickpea varieties for its dips and spreads.
"We need to establish the supply chain to meet our growing demand," Sabra's chief technology officer, Tulin Tuzel told The Wall Street Journal. "We want to reduce the risk of bad weather or concentration in one region. If possible, we also want to expand the growing seasons."
Hummus, long a staple of Middle Eastern cuisine, is low in fat and high in protein. Because of that, hummus sales have dominated the "refrigerated flavored spreads" segment of the food industry to the tune of $530 million last year. This represents an 11 percent bump from 2011 and a 25 percent jump over 2010, according to market-research firm Information Resources Inc.
With those kinds of sales figures, PepsiCo isn't the only big food company showing an interest in chickpeas and hummus. Kraft Foods Group Inc. (NASDAQ: KRFT) now owns Athenos, another big hummus brand.
IRI data show Sabra's hummus sales in 2012 were up roughly 18 percent at about $315 million. However, some retailers, such as Costco Wholesale Corp. (NASDAQ: COST), don't provide information to IRI, so the figures understate Sabra's retail sales.
As demand for hummus grows, so grows demand for chickpeas. Last year chickpea farmers received an average price of 35 cents a pound for their crop, representing a 10-cent increase over the mid-2000s, according to the U.S. Department of Agriculture.
Chickpeas are a tiny crop compared with corn or wheat. Last year's U.S. harvest, however, totaled a record 332 million pounds, up 51 percent from the previous year.
The USDA expects U.S. farmers to plant a record 214,300 acres of chickpeas this year, up 3 percent from last year and a fivefold increase over a decade ago.
As of this writing, Jim Probasco had no position in any mentioned securities.
Posted-In: Costco Wholesale Corp.News Wall Street Journal Retail Sales Topics Events Media General Best of Benzinga
View Comments and Join the Discussion!