Microsoft Hit a Five Year Intraday High Monday - Where's it Going Next?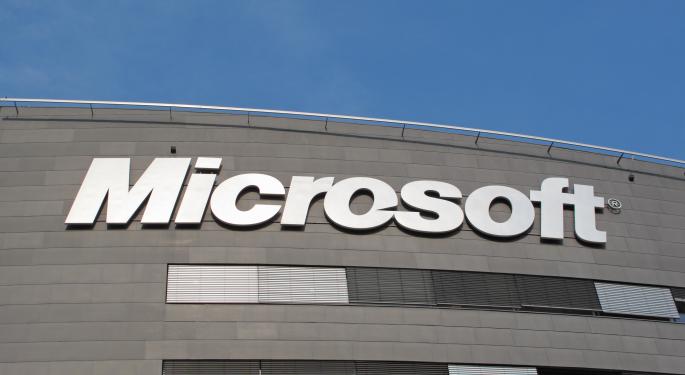 "Microsoft (NASDAQ: MSFT) will break $30 when pigs fly."
You better look to the sky because on Monday, it happened. First Congress and the White House agreed that air traffic controllers should go back to work and now this? What's happening to the world?
You might have heard of this company. It's the one that bases most of its business on the dying PC industry and has a CEO that once said that there's no possible way that the iPhone could ever become mainstream.
It's also the company that seems to excel at giving tech bloggers plenty of material to write about every time it introduces a new version of Windows. (Because everybody wants to relearn how to use their computer every couple of years.)
So what's the deal? Why has a stock that has perfected the art of disappointing investors for years gone on this recent rip higher? There are some things that don't seem to change in the investing world. Blame everything on high frequency traders is one and Microsoft not breaking the $30 level is another.
But it has. In fact, on Monday it traded to a high of $32.63 as of mid-day trading. The five year, yes, five year high sits at $32.60. If it closes above that level, that's a huge bullish signal.
Since its April 15 low, the stock is up more than 13 percent. The reason or reasons aren't entirely clear but as Microsoft has remained range-bound for years, earnings have climbed making this stock even more of a value proposition. There's also the coming Xbox release which should bring consumer attention back to a segment of the company that drives monster revenue.
Then there's the legions of value investors who have waited for some glimmer of hope that the company will show signs of becoming a growth stock again. Now that they have it, more money might be pouring in.
We can't predict the future but the charts might be able to tell us something about where the stock is going next.
For the past six months, the stock has quietly risen 19 percent. Going back to late 2009, it has staged meteoric upside gains in a relatively short period of time only to drop just as fast. In fact, the long term chart reveals seven previous times that investors were pulled into a bull trap.
Using history as the guide, if Microsoft doesn't convincingly break through $32.60 on large volume, traders can expect a pullback. In the past, the pullbacks have been 10 to 25 percent—a painful correction.
If this becomes a convincing breakout, the stock will find itself in bullish territory that is literally uncharted. Volume is good but don't forget that many an investor can tell tales of great pain when putting too much trust in a large-scale Microsoft move.
At the time of this writing, Tim Parker had no position in Microsoft.
Posted-In: Congress MicrosoftNews Technicals Events Tech Trading Ideas Best of Benzinga
View Comments and Join the Discussion!