Apple Sold 12.5 Million iPad Mini Units in Q2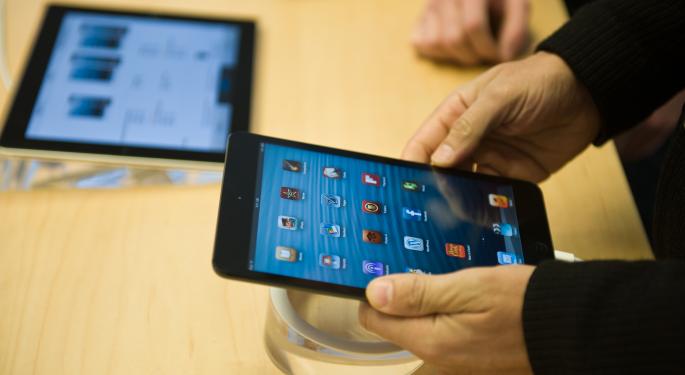 During the fiscal 2013 second quarter, Apple (NASDAQ: AAPL) sold 19.5 million iPads.
This was an impressive increase over the year-ago period when Apple sold 11.8 million iPads. At that time, only the second- and third-generation models were available.
Thus, investors could assume that the iPad Mini contributed significantly to the increase in sales this year. What they may not realize is that the smaller iPad actually eclipsed the sales of the second- and third-generation models last year, and obliterated the second- and fourth-generation models in 2013.
According to DigiTimes, Apple sold 12.5 million iPad Mini units during the second quarter. This is great news for the miniature iPad, but it means that only seven million people purchased the second- or fourth-generation model.
The third-generation iPad, which was released in March 2012, was discontinued when the iPad 4 arrived last fall.
Having sold 12.5 million iPad Mini units, Apple could still fulfill its rumored shipment goal of 55 million units. However, Apple is expected to ship no more than 12 million iPad Minis during the April-June quarter. This would limit the device's total sales potential to just 24.5 million units for the first half of the year.
Historically, iPad sales have increased during the summer and fall quarters. This changed last year when the device took an unexpected dive during the fiscal 2012 fourth quarter, which ended on September 29. While the third-generation model was expected to increase sales and inspire upgrades, consumers did not seem to be interested in spending another $500 (or more) for the new unit.
Consequently, iPad sales dropped from 17 million in the fiscal 2012 third quarter to just 14 million units in the fourth quarter.
iPad sales rose to new heights in October when the iPad Mini was released. While the initial launch was met with less fanfare than the iPad 3, the iPad Mini helped Apple sell 22.9 million tablets during the December quarter.
If the iPad sales roller coaster continues in 2013, it could mean that the sales will surpass expectations during the spring quarter. However, it could also lead to poor sales during the summer months.
It is not yet known when Apple will choose to upgrade the full-size iPad or the iPad Mini, but current estimates do not indicate that the company will offer two upgrades this year. Instead, Apple is expected to provide one upgrade for each iPad format (the Mini and the 10-inch model) and use them to ignite sales throughout the holiday shopping season.
Louis Bedigian is the Senior Tech Analyst and Features Writer of Benzinga. You can reach him at 248-636-1322 or louis(at)benzingapro(dot)com. Follow him @LouisBedigianBZ
Posted-In: Apple Digitimes iPad 5 iPad Mini iPad Mini 2News Rumors Tech Best of Benzinga
View Comments and Join the Discussion!