Five Things Microsoft Could Announce on May 21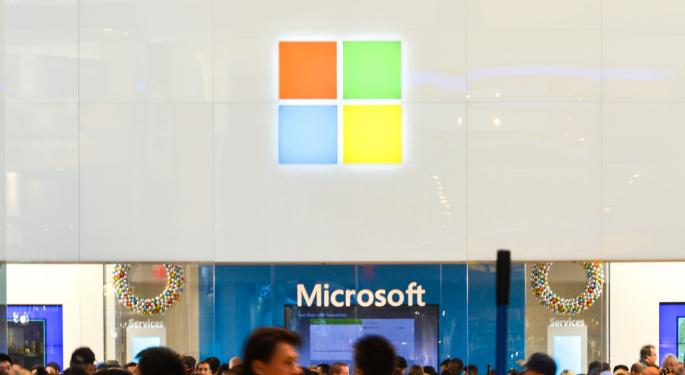 In just over three weeks, Microsoft (NASDAQ: MSFT) will unveil its third game console.
Tentatively referred to as "Xbox 720" by the gaming press, the new machine is expected to contain a new version of Kinect, the ability to run multiple games simultaneously, and a new feature called IllumiRoom that uses a projector to project images all over the user's television screen.
Xbox 720 is also rumored to lock out used games by forcing players to stay connected to the Internet at all times. The console may also require users to install games in full before they can be played. While this may be another measure to curb used game sales, it would also be a way for the console to run multiple games at the same time.
Microsoft has indicated that its May 21 event will be mostly used to introduce the new console and all of its features. While some games are likely to be shown, the majority will be saved for the company's second presentation (either at a press conference or on the show floor) at the Electronic Entertainment Expo in June.
Since the console and its features appear to be Microsoft's initial focus, millions of consumers and investors have been left to wonder: what will the company unveil on May 21?
"Big and Premium" TV Services
Yusuf Mehdi, the man in charge of Microsoft's interactive entertainment business, hinted at a new kind of TV when he spoke at the D: Dive Into Media conference.
"All I'll say about our current and future investment is [that it is] about doing things that are big and premium," he told reporters. "Other people will try some lower-end things; what we will do is things that are big and beautiful."
His promise of "big and premium" content will be tested on May 21.
A Different Kind of Game Controller
Sony (NYSE: SNE) has been making game consoles for 18 years. While a lot has changed since the first PlayStation was released in 1995, Sony's Dual-Shock controller has remained intact since it debuted in 1998.
There have been a few tweaks (and minor distractions in the form of SIXAXIS and PS Move), but at the end of the day, the Dual-Shock reigns supreme in Sony's world.
Microsoft, on the other hand, made the transition from a big and bulky Xbox controller (which some compared to holding a large hamburger) to a sleeker and more comfortable gamepad.
With so many changes in technology (such as touch screens and motion-based controllers), it is almost unfathomable to think that Microsoft will not bring something entirely new to the next Xbox that goes beyond a Kinect upgrade.
Brand-New Netflix and HBO Go Apps
Xbox 360's online capabilities are more frequently used for online entertainment than for gaming.
Despite this transition, Sony's PlayStation 3 still leads the pack as the most popular Netflix (NASDAQ: NFLX) device in the living room. Consequently, some people were surprised when Sony chose to use its PlayStation 4 event to focus exclusively on games.
Microsoft is likely to use this opportunity to show that it is building an entertainment device for the whole family. Expect Netflix and HBO Go to be a major part of that push with new apps and a brief presentation.
The First Glimpse of VR
Virtual reality is frequently thought of as the future of gaming. Though it could take a long time before the technology is good enough to produce a reliable and affordable interactive gaming experience, Sony (NYSE: SNE) and other game developers have been slowly making progress.
When Xbox 720 info first began to leak, virtual reality elements -- including a version of Kinect that would greatly enhance a user's experience based on his or her real-world surrounding -- quickly made their rounds across the rumor mill. These rumors were somewhat confirmed when Microsoft unveiled IllumiRoom.
IllumiRoom is not technically VR, however, and may not be the only thing Microsoft has planned for Xbox 720.
Game Debuts Sony Didn't Get
When Sony unveiled its next console, PlayStation 4, the company brought representatives from several of its key partners, including Activision (NASDAQ: ATVI), Capcom, Ubisoft and the company that helped sell the original PlayStation in Japan, Square Enix.
While other big publishers -- Electronic Arts (NASDAQ: EA), Konami (NYSE: KNM) and Take-Two Interactive (NASDAQ: TTWO) -- were announced as PS4 developers, they did not have a stage presence at Sony's event.
Given how close Microsoft and Electronic Arts have become, EA is all but guaranteed to make an appearance on May 21. The two companies used Madden to heavily promote Xbox 360 during a pre-taped teaser event that aired on MTV in 2005. This time around, Spike TV -- which is owned by MTV Networks -- will air a live Xbox event.
Microsoft has also gotten closer with Konami. While the Windows maker has been unable to acquire any memorable exclusives, Microsoft did secure the worldwide debut of the teaser trailer for Metal Gear Rising. With Metal Gear Solid 4 already unveiled, expect Konami to provide a new (perhaps exclusive) teaser at Microsoft's event.
Louis Bedigian is the Senior Tech Analyst and Features Writer of Benzinga. You can reach him at 248-636-1322 or louis(at)benzingapro(dot)com. Follow him @LouisBedigianBZ
View Comments and Join the Discussion!
Posted-In: Activision Capcom electronic arts Konami MicrosoftNews Rumors Tech Best of Benzinga