FedEx Announces New Contract with Postal Service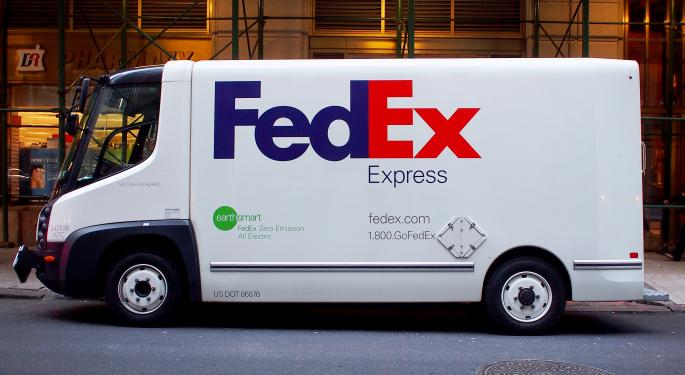 FedEx (NYSE: FDX) needed this.
It's been a rough 2013 for FedEx longs as they've watched the stock fall more than 15 percent after an impressive run to a high of $109 in March. Then, disappointing earnings, news of layoffs and adjusted guidance sent the stock plummeting.
Judging by after-hours action, investors are excited about Tuesday's news. FedEx announced that it entered into a contract with the United States Postal Service to deliver Priority and Express Mail to airports starting in October when the previous contract expires.
The contract is valued at $10.5 billion over the next seven years, but the Postal Service and FedEx didn't provide further details. In 2012, the company brought in $1.62 billion from the Postal Service—an eight percent year over year increase.
But why did the stock rocket two percent to the upside when FedEx basically announced, "We're going to continue doing what we've already done?" The company has provided services to the Postal Service for the past seven years, so why all of the excitement?
Because it was widely believed that UPS (NYSE: UPS) would likely take a larger percentage of the Postal Service business in the new contract negotiations. Insiders believed that it could be as much as 20 to 30 percent. Last year, the Postal Service was responsible for about $126 million of UPS' revenue.
There was also concern that the contract could be significantly smaller given the recent financial problems plaguing the Postal Service.
Investors may be excited now but the Postal Service's financial problems aren't going to improve any time soon. With Congress recently blocking it from cutting Saturday delivery, cost cutting measures haven't done much to cut its debt—expected to reach $45 billion by 2017.
Technical Analysis
Despite the ailing Postal Service, this is good news for FedEx, but is this a reason to buy the stock at these levels?
The charts illustrate a stock that is severely broken. At current levels, it's below all major moving averages and testing its 200 DMA. Still, sell volume is significantly higher than buy volume giving the indication that there may be more selling in its future before the stock finds a bottom.
Fundamentally, value investors make the argument that this is an example of a stock that is much more broken than the company.
UPS, on the other hand, is up 20 percent on the year with a much healthier chart. Traders looking for shorter term gains should look closely at UPS while value investors should spend some time researching FedEx.
Disclosure: At the time of this writing, Tim Parker was long FedEx.
View Comments and Join the Discussion!
Posted-In: fedexNews Technicals Contracts Legal Events Global Trading Ideas Best of Benzinga