MoneyShow is a 'Great Place to Educate Investors'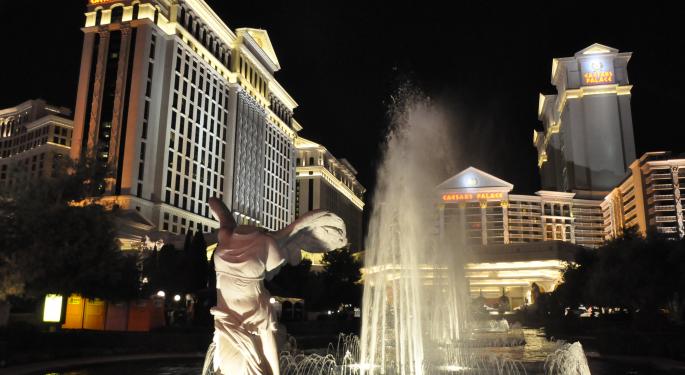 Why should investors attend the 2013 MoneyShow at Caesars Palace in Las Vegas, Nevada?
According to Jack Ablin, Executive VP and Chief Investment Officer of BMO Private Bank, they should attend because it is a "great event."
"I find that the participants are really interested in learning," Ablin told Benzinga. "It is a great place to educate investors."
Ablin said that the various MoneyShow events are good for both novice and expert investors, "depending on how they want to use it."
"There are two types of talks I do: one is really just a macro overview and what the investment implications are," said Ablin. "That can be really for any audience. The other is more of a how-to -- why take the approach that I take to investing, why I think it's important, and sort of guide people to doing a lot of that for themselves."
Ablin also intends to offer his take on various global macro themes.
"Most of what I'm doing for the MoneyShow is offer my take on some global macro themes and what some of the implications of those themes are for investment portfolios," said Ablin. "It all depends on the objectives of the client, but there are certain implications that are positive and others that are negative and potentially threatening."
According to Plan
In addition to the upcoming MoneyShow event, Ablin spoke about the "enormous monetary easing that's going on through most of the developed world," and how it may impact asset values.
"The developed market wants inflation and they're starting to get it," said Ablin. "They're getting it in asset values, they're getting it in housing, they're getting it in equity prices. So in many respects the work that the central banks are doing is kind of going according to plan."
Ablin, who was once a mortgage-backed securities trader and a finance professor at Boston University, said that he is also worried about the way monetary easing stimulates growth.
"While that's great for borrowers and business owners and those that own growth assets, on the other hand it is a threat to the lifestyle of retirees who use the value of their portfolio to build income to meet their monthly spending needs," he said.
European Policymakers
Last fall, Ablin told Fox Business that he expected European policymakers to play nice until after the U.S. election -- with regard to debt negotiations, at least.
"A lot of those issues were put off until after the election," Ablin told Benzinga. "I still think that Europe is trying to execute a pretty interesting balancing act. Here's one area where they're not really trying to reflate, they're not trying to reduce the value of the currency."
Ablin suspects that the policy in Europe will ultimately be decided "not in parliament but in the voting booths and out in the street."
Regulations
While some are concerned about the JOBS Act, Ablin is mostly focused on regulations and policies that relate to the treatment of certain tax preference items.
"[This includes] the real estate investment trust, perhaps, or the master limited partnerships," said Ablin. "If you recall last year, MLPs were among the worst investments. That wasn't because there's anything fundamentally wrong with them, [but it appeared] going into the fiscal cliff that they would lose their valuable income exemptions. That's always on the table, and things we just have to be watchful for."
Capital Gains
Warren Buffett may support the push to raise the capital gains tax, but not everyone agrees with this strategy.
"I think at some point if you start choking off investment you're really going to kill the goose that laid the golden egg," said Ablin.
"My view is that you've got two sides to the economy -- the business side and the personal side. With respect to income, I'm not averse to relatively full personal income taxes. I would argue that we should take the corporate tax and make it close to zero."
That might sound like it would place the tax burden on individuals instead of wealthy corporations, but Ablin argues that it would foster the creation of new jobs.
"Really, what we want to encourage in this country is creativity, innovation and job creation," he said. "The way policymakers need to do it is create a little Petri dish and [it] should have relatively few regulations, relatively easy access to capital -- which would mean you don't want to tax it too high -- and it should have a stockpile of qualified and educated [individuals]."
In order to get there, Ablin said that the U.S. must first upgrade its workforce.
"Especially to compete on a global level," he said. "But we also need to really try and get a lot of this business germination going. So it probably shouldn't be a surprise that of all the developed nations we have the laxest bankruptcy laws in the world, and that's by design. We want to encourage people to take risks, and we don't want them to feel that they'll go to debtors prison if it doesn't work out.
"We don't want to make the consequences of failure so draconian that it would discourage people from even trying."
Louis Bedigian is the Senior Tech Analyst and Features Writer of Benzinga. You can reach him at 248-636-1322 or louis(at)benzingapro(dot)com. Follow him @LouisBedigianBZ
Posted-In: BMO Private Bank Jack Ablin MoneyShow Warren BuffettNews Events Success Stories Best of Benzinga
View Comments and Join the Discussion!