Forget Your Bank – This is the Fastest Growing Type of Payment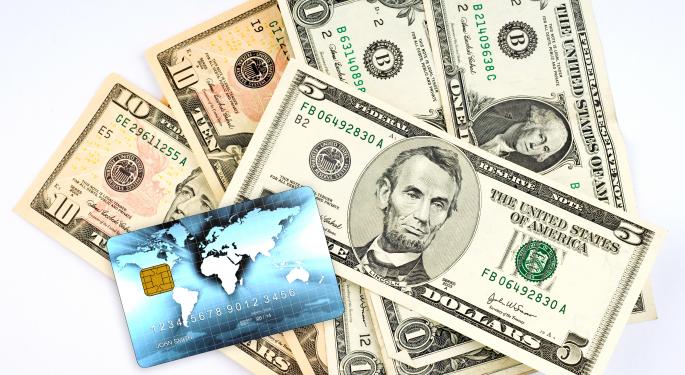 It used to be for consumers who couldn't qualify for a credit card or bank account, but all of that has changed according to new report published Wednesday.
According to the report, Are Prepaid Cards Replacing Checking Accounts?, prepaid cards are currently the fast growing payment type available to consumers and that is projected to continue. Why should you consider this payment type? It's financial literacy month so let's learn something new.
Many Have No Fees
Remember when prepaid cards were marketed primarily to those with damaged credit? These were the people who couldn't qualify for a bank account or credit card and had no other option. When prepaid cards were marketed only to these subprime consumers, they came with a fee for just about everything. (Kind of like banks today.)
As the companies went after more highly qualified customers, the fees were reduced. Today, they're nearly non-existent. The Bluebird Card by American Express (NYSE: AXP) and Walmart (NYSE: WMT) has no monthly fee, no ATM fees at network machines, free bill pay features and no fee to add funds.
They Can Replace a Checking Account?
Consumers hate fees and banks are full of them. The average consumer can lose hundreds of dollars each year to bank fees. Add to that interest payments that don't come close to beating inflation and there is little reason for consumers with basic needs to keep their money on deposit with a bank. A prepaid card, with its fee free structure, can reduce those banks fees to nearly nothing.
Of course, replacing a bank account with a prepaid card isn't appropriate for those with large balances or more advanced banking needs, but if use your bank for nothing more than depositing a paycheck and paying bills, saving money in fees is a strong incentive.
For Children
Prepaid cards are a great tool for teaching children basic money management. Load the card with a pre-determined monthly amount and encourage them to save by shopping for the best deals and developing a budget. Teach them the power of saving by reminding them that if they finish the month with money left on the card, they'll have a larger amount next month. (The power of compounding.)
Debt Control
According to the report, Americans currently pay 15 percent of their disposable, after-tax income to service their debt. The problem of credit card debt runs rampant in America, and many feel the stress of debt payments they can't afford.
Because you can't hold a balance on a prepaid card, going further into debt isn't an option. The most you can spend is the balance on the card.
Transfer the portion of your budget that involves discretionary spending to your prepaid card. When it's gone, you can only purchase what you need instead of what you want.
Small Business Use
Do you have employees who have to make purchases on behalf of your company? Load a prepaid card with a certain amount so your company account is never at risk.
Bottom Line
You might not be ready to ditch your bank but with their low or no fee structure, prepaid cards are rapidly gaining in popularity. Think about how you can use them as a teaching tool or as a means to control debt.
Posted-In: American Express prepaid cards WalmartNews Events Small Business General Best of Benzinga
View Comments and Join the Discussion!