Burger King Roasts on Appetizing First Quarter Outlook, Shakes up Executive Team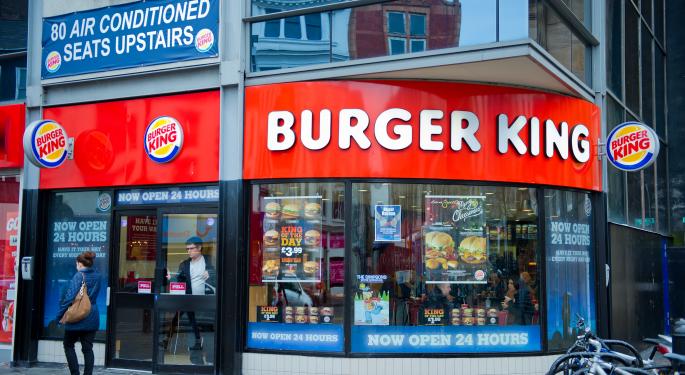 Burger King Worldwide (NYSE: BKW) is cooking on Thursday after releasing a positive first quarter earnings outlook.
The Miami-based firm expects EPS to close at around $0.17, which would edge the Wall Street consensus of $0.16.
Sales Undercooked
Burger King expects a global comparable sales decline of 1.5 percent for the quarter. Within the US and Canada, the company projects a three percent drop.
However, the quarter wasn't all bad on the sales front, as March proved to be a beacon of light for America's fifth-most popular fast food chain. The company reported sales growth worldwide for the month.
New Burger King to Catch Up
Current CEO Bernardo Hees will step down and become the CEO of Heinz (NYSE: HNZ) upon completion of its acquisition by 3G Capital (which owns over 70 percent of Burger King) and Berkshire Hathaway or July 1, whichever comes first. Hees will remain with Burger King as vice chairman of the board and a member of its executive committee. He doesn't plan to sell any of his stake in the firm.
Upon Hees' transition to Heinz, current CFO Daniel Schwartz will become Burger King's CEO. Until that time, he has been appointed as the company's COO and will be replaced as CFO by current senior VP of global finance Josh Kobza.
Meanwhile, the fast food chain has made several other changes to its executive lineup. Executive VP and President, North America Steve Wilborg has been promoted to chairman, North America. Alex Macedo, who most recently served as the company's US senior VP and GM, will take his place.
Rounding out the list are Rodrigo Musiello and Jose Dias. Muriello will serve as Burger King's EVP, global operations. Dias will be its EVP, global development and president, Latin America and the Caribbean.
Unfortunately, Burger King and Pittsburgh-based Heinz will not be able to capitalize on their connection by offering a "Roethlisburger" (perhaps soaked in Heinz Ketchup) at the Steelers' Heinz field. A local establishment has beat them to the punch.
Stock Sizzling
After hovering above $19 from late March into early April, Burger King steadily dropped and leveled out a bit below $18.50. It remained at that point through Wednesday and closed at $18.46.
However, the positive guidance has heated the stock back up again and it currently rests above $19 as the second half of the week progresses.
Burger King is up around four percent on Thursday.
Posted-In: Alex Macedo Bernardo Hees Daniel Schwartz Jose Dias Josh Kobza Ridrigo MusielloNews Guidance Best of Benzinga
View Comments and Join the Discussion!