Likely Winners and Losers in Obama's 2014 Budget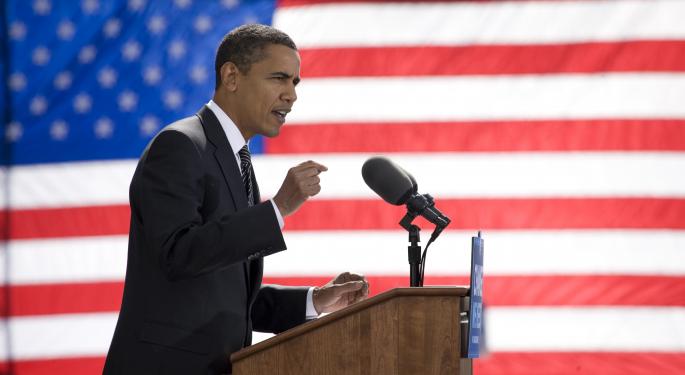 President Barack Obama's proposed $3.8 trillion budget is designed to cut the deficit by $600 billion over 10 years, after factoring in the negation of cuts already enacted under the sequester according to The Associated Press.
Depending on the framework of the final budget, some businesses will almost certainly see a more direct impact on their bottom line than others.
Here are a few selected examples, broken down by government agency:
Agriculture
The President's proposal, made in the past to cut $37.8 billion by eliminating some direct farm subsidies and reducing government help for crop insurance and never enacted, would affect a variety of corporations with ties to farming and agriculture.
Proposed changes to the food aid program could negatively affect farmers leaving less money for discretionary spending and innovation. Examples include: Archer Daniels Midland (NYSE: ADM), Deere (NYSE: DE) and Monsanto (NYSE: MON).
Defense
Ending or shrinking certain weapons programs obviously hurts defense contractors like Lockheed Martin (NYSE: LMT), Boeing (NYSE: BA), and Northrop Grumman (NYSE: NOC) to name a few.
Energy
The President's proposed $615 million increased investment in solar, wind, geothermal and hydropower as well as $282 million to develop new biofuels is good news for companies like First Solar (NASDAQ: FSLR), SunPower (NASDAQ: SPWR), Green Plains Renewable Energy (NASDAQ: GPRE), and Ballard (NASDAQ: BLDP), a maker of fuel cells.
Repealing $4 billion per year in tax subsidies to oil, gas and other fossil fuel producers on the other hand, would not be welcomed by Exxon Mobil (NYSE: XOM), Shell (NYSE: RDS-A), Marathon (NYSE: MRO) and others in the oil and gas sector.
Interior
The news for fossil fuel producers doesn't get better in the Department of Interior part of the budget where the President is proposing new fees for the oil and gas industry to pay for the processing of permits.
Health and Human Services
Spending increases in the Health and Human Services budget due to Obamacare along with an increase in Medicaid spending is helpful to Pfizer (NYSE: PFE), GlaxoSmithKline (NYSE: GSK) and others in the health care sector.
Transportation
Finally, if the President gets his way and $50 billion is set aside to pay for improving the nation's roads, bridges, transit systems, border crossings, railways and runways, companies like Caterpillar (NYSE: CAT) will rejoice.
Likewise, passage of a $40 billion rail reauthorization program to upgrade existing intercity passenger rail services, develop new high speed rail corridors, and strengthen the overall competitiveness of the freight rail system will be welcomed by CSX (NYSE: CSX) and others in the rail channel.
View Comments and Join the Discussion!
Posted-In: Archer Daniels Midland Company Ballard BoeingNews Politics Legal Events General Best of Benzinga