J.C. Penney 'Does Not Deserve to be a Public Company'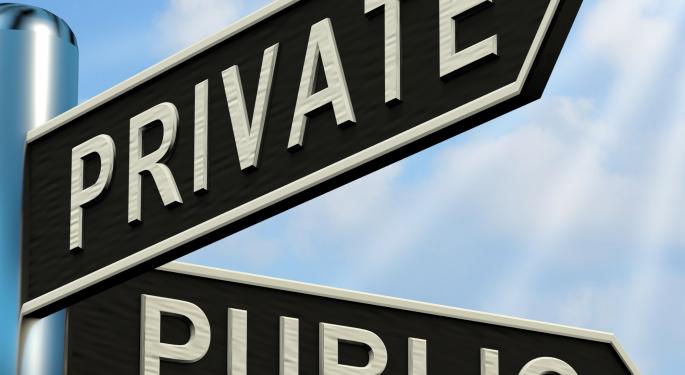 When it was announced that Ron Johnson had 'resigned,' shares of J.C. Penney (NYSE: JCP) soared, rallying over ten percent.
That is, until his successor was announced. The man named to take the helm and right the ship after Johnson's disastrous tenure was no other than Mike Ullman, the chief executive before Johnson. On the news of his successor, the stock immediately gave up all the gains and went over six percent into the red.
Following the shocking turn of events, we got in touch with veteran retail analyst and outspoken critic of Ron Johnson, Brian Sozzi of Belus Capital Advisors, to shed some light on the move.
Sozzi's first comment on the decision and subsequent market reaction was that the "market is right." Sozzi went on to say that Ullman is not the right man for the long-term at J.C. Penney and his strategy may not even be right for the short term.
So why did J.C. Penney go with someone they previously determined couldn't get the job done? Sozzi said that J.C. Penney simply needed someone who knows the company inside and out, while being able to hit the ground running. He also brought up a very astute point: What successful retail executive would be willing to risk their career on the sinking ship that is J.C. Penney right now?
Another question on any traders' minds right now is why was Ron Johnson so successful at Apple (NASDAQ: AAPL), yet seemingly so helpless in his new position?
While pundits have offered answers ranging from his lack of ability to run a full company to not being given enough time to turn around the struggling retailer, Sozzi took a different approach. He was quick to highlight the differences between the sectors: Apple operated in a highly innovative industry where they told people what they wanted, creating a market and demand for themselves, while J.C. Penney operates in the highly competitive, yet stagnant retail industry.
The huge difference here is that Apple's products were different and unique, while J.C. Penney's offerings were simply dropped into a nicer store, but at a higher price.
Sozzi also noted what this may mean for the Martha Stewart case.
If the company had confidence in its ability to win the case, and thus hang onto some positive investor sentiment, they may have given Johnson some more time, but the move seems to be signaling that the company is not confident in its chances of winning this case. Yet another setback for the beat up retailer.
Was Ron Johnson onto something? Sozzi certainly thinks so, but the changes came too quickly and without the attention to detail that was needed in such a tectonic shift.
He believes Mike Ullman will slow the pace of change, but before he can even do that, he will need to spend the next 30 days evaluating where exactly the company is, where its heading, and where he can stop the bleeding.
In essence, J.C Penney will be frozen for the next 30 days or so as Ullman evaluates the company, looking for any possible way to save it.
Are there any near term catalysts that could provide some upside to the embattled retailer? Sozzi doesn't think so. When asked about the company's prospects he responded that "J.C. Penney doesn't deserve to be public at this point", going on to say that he wouldn't be surprised if there was a bid sometime in the next 30 days to take it private.
With competitors like Macy's (NYSE: M) and Target (NYSE: TGT) grabbing up Penney's market share during its weakness, whatever turn around can be made will need to be done quickly.
Following an incredibly volatile couple of hours of trading, J.C. Penney shares are currently down 7.06 percent to $14.75 on Tuesday.
Posted-In: Belus Capital Advisors Brian Sozzi Martha Stewart Mike Ullman Ron JohnsonNews Management Movers Best of Benzinga
View Comments and Join the Discussion!