Twitter is Most Popular in Argentina, and More Social Media Use Patterns That Will Surprise You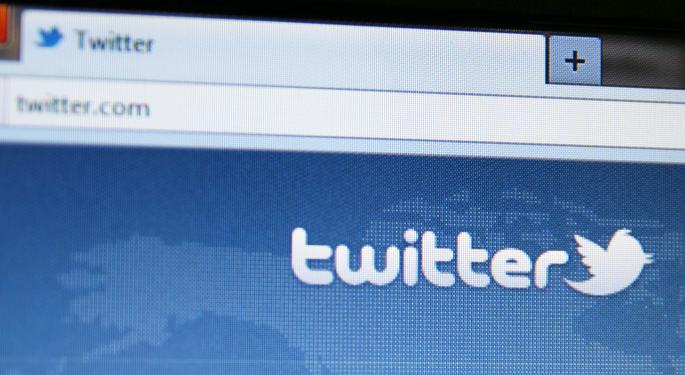 The leading social media platforms in the world were developed in the U.S., and the ability to create one's own filter bubble further localizes the perception of social networks relative to the world.
Benzinga crunched some numbers in Excel, graphing the countries where Facebook (NASDAQ: FB), Twitter and LinkedIn (NYSE: LNKD) are most popular, as well as tabulating the penetration of each social network as a proportion of each country's population.
Special thanks to Mediabistro and Socialbakers for the data that made this piece possible.




Facebook
The ten countries where Facebook is most commonly used make up about half of Facebook's one billion-plus users.
The Chinese government has banned Facebook, but the top four users coincide relatively well with global population rankings.
Nigeria, Bangladesh, Russia and Japan round out of the top ten leaders in world population, but are underrepresented in the usage of the Mark Zuckerberg-led social platform.
Mexico, Turkey, the U.K., France and Germany jumped at least six spots to round out the top 10 nations where Facebook is king.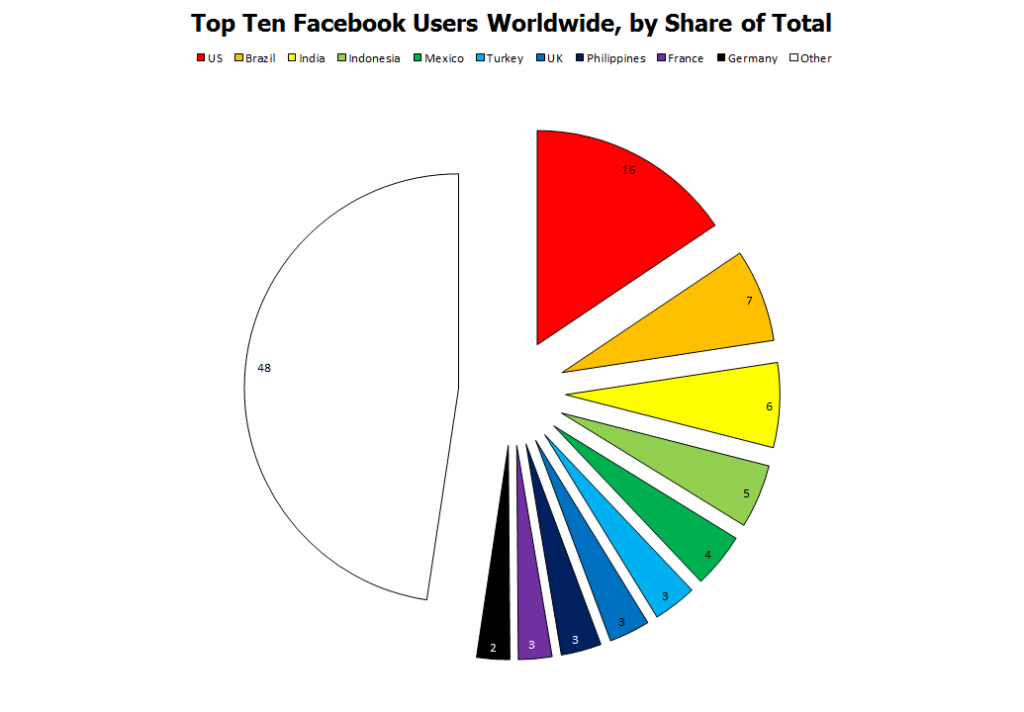 In terms of penetration, usage is highest in Qatar (ranked 97th), where more than 81 percent of the population is active on Facebook. Here's what the penetration percentages of the top ten users looks like:


United States -- 50.22
Brazil -- 34.88
India -- 5.44
Indonesia -- 19.81
Mexico -- 36.89
Turkey -- 42.22
United Kingdom -- 49.46
The Philippines -- 30.48
France -- 38.99
Germany -- 30.48
Twitter
The popularity of Twitter in Ibero-America is noteworthy. Four of the top ten countries with the most Twitter users speak Spanish or Portuguese. Again, the top power players make up half of all Twitter users worldwide, but there's a much more level playing field compared to Facebook.
China and India both make up 12 percent of all Twitter users, with the U.S. and Brazil not too far behind. Special thanks to Mediabistro for these estimates.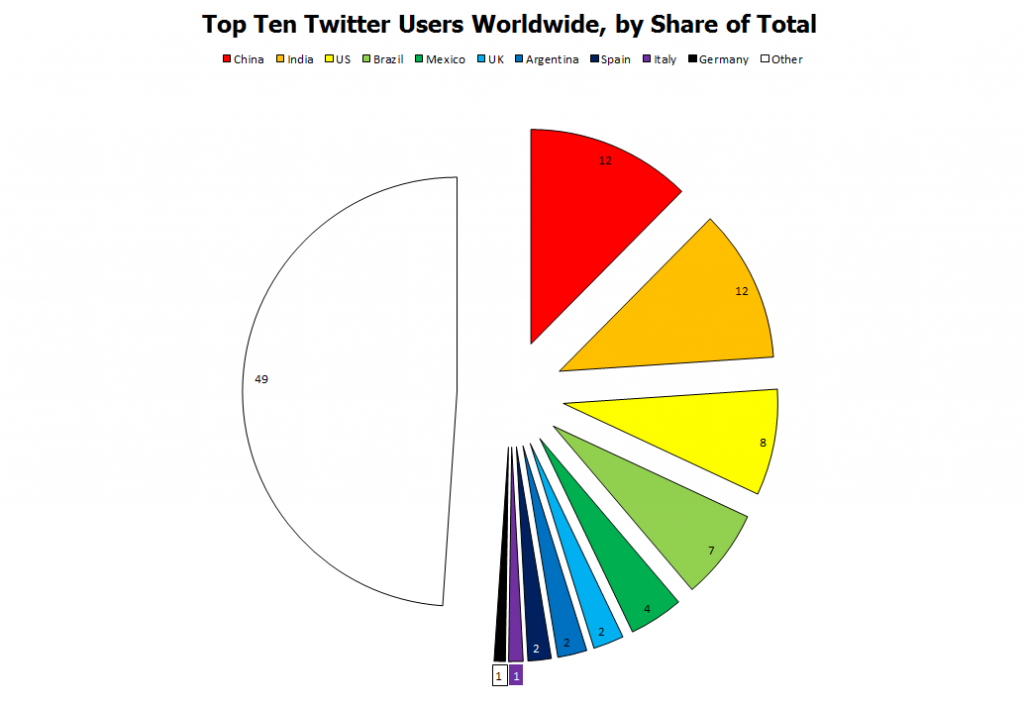 Penetration statistics in each country were certainly interesting. Out of the top nations, Twitter is far and away most popular in Argentina, where more than 15 percent of the population consists of active Twitter users. Here's what the rest of the top ten looks like:


China -- 2.64
India -- 2.65
United States -- 7.29
Brazil -- 9.94
Mexico -- 10.17
United Kingdom -- 10.47
Argentina -- 15.37
Spain -- 10.64
Italy -- 5.08
Germany -- 2.92
LinkedIn
Lastly, there's LinkedIn, which appears to be far more widely used in English speaking countries. Six of the top countries feature English as an official language. Despite small penetration figures, India and China's rising professional class appears to be taking advantage of the social network to boost their job prospects in an age of globalization.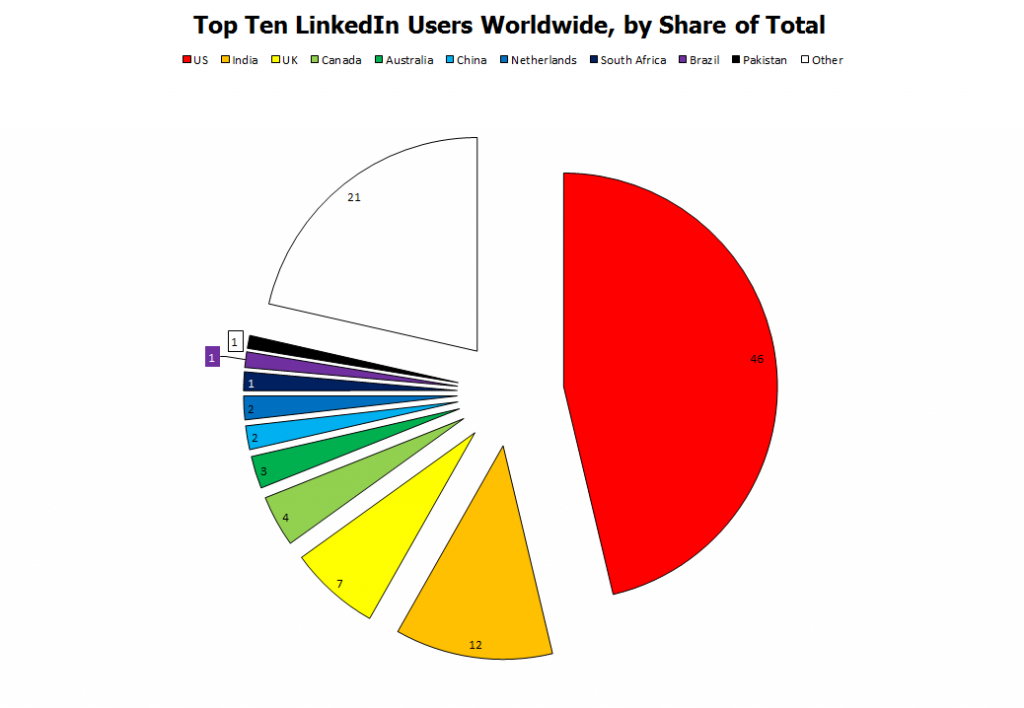 LinkedIn penetration is much smaller than Facebook, but in terms of active users, it surpasses Twitter, at least in the United States where a quarter of the population has a LinkedIn profile. What about other countries?


United States -- 25.17
India -- 1.72
United Kingdom -- 18.58
Canada -- 19.47
China -- 0.23
Netherlands -- 18.12
South Africa -- 4.86
Brazil -- 0.98
Pakistan -- 0.90




Follow Alex Biles on Twitter at @perfectlyaloof
Posted-In: twitterNews Global Economics Tech General Best of Benzinga
View Comments and Join the Discussion!