ADP Employment Report Shows 158,000 New Jobs in March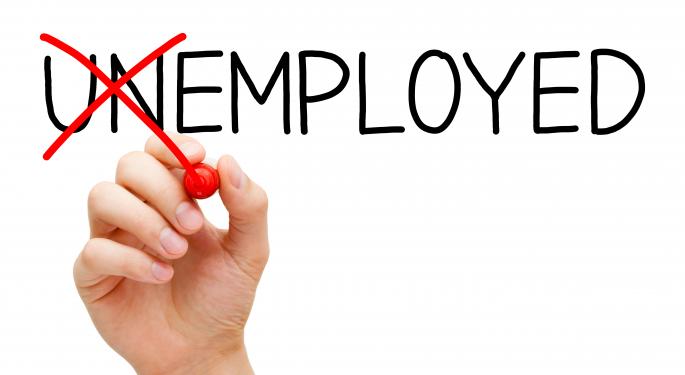 The ADP Employment report may come as a bit of disappointment, with 158,000 new jobs created.
While still a decent figure for "normal" economic times, this is the fewest number of new jobs created in this survey in the past five months. It may also cause analysts to lower their expectations for 190,000 to 200,000 new jobs to have been created in March, when the more-official non-farm payrolls are released Friday.
We need significantly more new jobs to be created to bring down the unemployment rate quickly by a meaningful amount.
Still, the ADP Employment report does not track perfectly the non-farm payroll report, released by the Bureau of Labor Statistics, and the ADP data do not include government jobs.
While based largely on companies that use ADP for payroll, the data released Wednesday morning do attempt to compensate for the survey's bias by including an estimate for jobs created not in ADP's database. Some larger companies, for example, do their own payroll and thus would not be included in ADP's database.
In prior months for the ADP report, revisions to job gains in the two prior months were offsetting; February's gain of 198,000 jobs was revised up by 39,000 to 237,000, and January's 215,000 gain was revised down by 38,000 to 177,000.
Goods-producing employment rose by 7,000 jobs in March, its slowest pace of growth in six months. Construction added no net jobs over the month; this follows average monthly gains of 29,000 in the three months prior.
Meanwhile, manufacturers added 6,000 jobs. Service-providing jobs increased by 151,000. Among the service industries reported by the ADP National Employment Report, professional/business services had the largest gain with 39,000 jobs added over the month. Trade/transportation/utilities added 22,000 jobs and financial activities added 9,000 jobs.
The ADP report does not include quite as many occupational categories as the non-farm payrolls report compiled by the BLS. For example, of those service sector jobs in this report, we do not know how many jobs were created in low-wage industries such as retail and food service.
And professional/business services includes both high-paying jobs in areas ranging from accounting to architecture and low-paying jobs such as in administrative support and temporary workers. We will need to wait for the BLS data on Friday to determine, among other issues, a more detailed breakdown of which occupations saw job gains.
Businesses with 49 or fewer employees added 74,000 jobs in March. Employment levels among medium-sized companies with 50-499 employees rose by 37,000, while employment at large companies – those with 500 or more employees – increased by 47,000.
"The U.S. private sector added 158,000 jobs in the month of March 2013, with the majority of the new jobs created by service providers," said Carlos A. Rodriguez, president and chief executive officer of ADP. "Over the first quarter of 2013, the ADP National Employment Report has reported an average gain of 191,000 new private sector jobs per month."
Mark Zandi, chief economist of Moody's Analytics, said, "Job growth moderated in March. Construction employment gains paused as the rebuilding surge in the wake of Superstorm Sandy ended. Anticipation of Health Care Reform may also be weighing on employment at companies with close to 50 employees. The job market continues to improve, but in fits and starts."
Friday's non-farm payrolls report will bring much more information. Importantly, the BLS data on Friday will also include details such as the workweek and hourly pay, which are also important economic data points. Not only do we need more people working, but also those who are employed need wage gains to propel the economy forward.
In recent months, consumer spending has been supported by a falling, or at least depressed, savings rate. The savings rate in January was 2.6 percent, down from 3.3 percent to 4.1 percent in the latter part of 2012. In decades prior, the savings rate had been in the range of 8 percent to 10 percent. Looking ahead, we will need incomes to increase to support further significant improvements in consumer spending.
View Comments and Join the Discussion!
Posted-In: Hurricane SandyNews Economics Markets Best of Benzinga