Benzinga's M&A Chatter for Tuesday April 2, 2013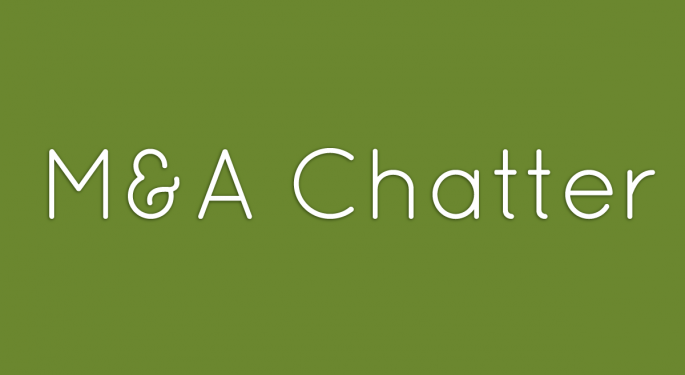 The following are the M&A deals, rumors and chatter circulating on Wall Street for Tuesday April 2, 2013:
Merz Pharma Group Offers to Acquire Obagi Medical Products for $22/Share in Cash
The Offer:
In a letter to the Board of Directors of Obagi Medical Products (NASDAQ: OMPI), Merz Pharma Group outlined a proposal Tuesday, to acquire all of the outstanding common stock of Obagi for $22 per share in cash. On March 20, 2013, Obagi announced that it entered into a definitive merger agreement to be acquired by Valeant Pharmaceuticals (NYSE: VRX) for $19.75/share in cash.
The Obagi Board of Directors confirmed it had received an unsolicited letter from Merz Pharma offering $22 per share cash to acquire the Company, and the Obagi Board of Directors will evaluate Merz Pharma's offer and the merger terms consistent with its fiduciary and legal duties.
Obagi Medical Products closed at $22.88 Tuesday, a gain of 16% on 4 times average volume.
Deal Reporter Says Verizon, Vodafone Not in Takeover Talks
The Rumor:
Verizon (NYSE: VZ) and Vodafone are not in takeover talks, according to Deal Reporter. Earlier, a report from FT Alphaville said a bid from Verizon and AT&T (NYSE: T) cold value a deal at $245 billion. That would make it the largest merger deal ever.
Spokespersons for Verizon and Vodafone declined comment on the report.
Vodafone closed at $29.41 Tuesday, a gain of 3.76% on 3 times average volume.
Hearing Renewed Chatter of Thermo Fisher Bid for Life Technologies
The Rumor:
Shares of Life Technologies (NASDAQ: LIFE) spiked higher and Thermo Fisher Scientific (NYSE: TMO) hit new 52-week highs Tuesday on a Reuters report TMO could bid as much as $70 per share for LIFE. Last month Thermo Fisher and several other companies were mentioned as possible bidders, including Roche (OTC: RHHBY), GE (NYSE: GE), and Danaher (NYSE: DHR).
Life Technologies declined comment on the rumor. A spokesperson for Thermo Fisher was not available for comment.
Life Technologies closed at $65.75 Tuesday, a gain of almost 2% on average volume. Thermo Fisher Scientific closed at 78.56, a gain of 4% on 2.5 times average volume.
Optimer Seeing Interest from Glaxo, Astellas
The Rumor:
Optimer Pharmaceuticals (NASDAQ: OPTR) is drawing takeover interest from GlaxoSmithKline (NYSE: GSK) and Japan's Astellas Pharma, according to Bloomberg. Optimer is reportedly seeking as much as $1 billion in an auction.
Spokespersons for Optimer and Glaxo were not available for comment.
Optimer Pharmaceuticals closed at $13.91 Tuesday, a gain of 19% on 5.5 times average volume.
AmerisourceBergen Sells AndersonBrecon for $308M
The Deal:
AmerisourceBergen Corporation (NYSE: ABC) announced Tuesday that it has signed a definitive agreement to sell its contract packaging business, AndersonBrecon, to an entity formed by affiliates of an investor group led by Frazier Healthcare VI, L.P. for the purpose of acquiring AndersonBrecon. The purchase price for the transaction is $308 million in cash. The investor group includes affiliates of Greenspring Associates, QIC Global Private Equity, and Thomas McNerney & Partners. The transaction is expected to close in the third quarter of fiscal 2013, which ends June 30, 2013.
AmerisourceBergen closed at $52.41 Tuesday, a gain of 1.5% on twice average volume.
View Comments and Join the Discussion!